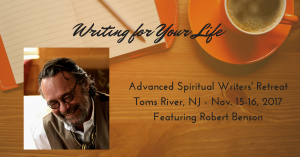 Advanced Spiritual Writers' Retreat – Nov. 15-16, 2017 – Christ Episcopal Church, Toms River, New Jersey
Join acclaimed author Robert Benson and marketing guru Brian Allain for a 2-day, limited-size intensive retreat intended for spiritual writers who are serious about their writing, including those who have attended one of our previous Writers' Conferences. In this retreat we will dig deeper into several writing and marketing topics and allow you to participate in Q&A sessions with representatives from Abingdon Press, ChristianityToday magazine, and the Daniel Literary Group.
Our conferences, workshops, and retreats have a reputation of collegiality and lack of competitiveness among attendees. Come join us and enjoy the supportive environment!
Here are the topics Robert will cover:
Dark Marks on the Page: Making Writing That Matters
– About learning to dig deeper as an artist
– About learning to write what matters and not to waste time and ink
Hat Tricks: Making Better Writing
– About knowing where you are as you work
– About practices that will make your work better
Here are the topics Brian will cover:
– Deep dive on Facebook marketing, including Facebook advertising
– Self-publishing: Why and How
– Finding your strategic niche as a writer
– Advertising your books on Amazon
Our Q&A sessions will be with:
– Susan Salley, Associate Publisher of Abingdon Press
– Jeremy Weber, Senior News Editor at Christianity Today
– Greg Daniel, Founder and Owner, Daniel Literary Group
Special Bonus: Our Q&A guests have graciously agreed to receive any author profiles, book/article proposals, and/or manuscript that any attendees would like to offer. However there should be no expectation that you will receive a response to your submission.
Special Double Bonus: All attendees can sign up for an hour-long individual marketing consultation meeting or call with Brian Allain. Some of these can be scheduled as in-person meetings before or after the retreat and others can take place over the phone. Meetings and calls will be scheduled on a first-come, first-served basis.
Extra Special Triple Bonus: All attendees are also welcome to join Robert Benson's book discussion and Q&A on the evening of Thursday, Nov. 16 at 7 PM, which is open to members of Christ Episcopal Church and area residents.
Here is our agenda:
Wednesday, Nov. 15
12:00 – 1:00 Lunch
1:00 – 2:30 Robert
2:30 – 3:00 Guest Q&A via Skype
3:00 – 3:30 Break
3:30 – 5:00 Brian
5:00 – 5:30 Guest Q&A via Skype
5:30 – 6:30 planning your action items and small group discussion
7:00 Optional group dinner
Thursday Nov. 16
8:00 – 8:30 Reflections
8:30 – 10:00 Robert
10:00 – 10:30 Break
10:30 – 11:00 Guest Q&A via Skype
11:00 – 12:00 Sharing your action items for writing or marketing
12:00 – 1:00 Lunch
1:00 – 2:00 Q&A / open discussion
7:00 – 9:00 Robert Benson book discussion and Q&A (open to the general public)
The $299 registration fee includes:
– the 2-day retreat sessions with Robert and Brian
– lunches and breaks
– Q&A sessions via Skype with representatives of Abingdon Press, Christianity Today, and TBD
– Submission of your profile, book/article proposal, and manuscript to Abingdon, Christianity Today, and the Daniel Literary Group (optional; there should be no expectation that you will receive a response to your submission)
– 1-on-1 meeting/call with Brian Allain to discuss marketing and platform development, scheduled on a first-come, first-served basis (optional; limited in-person meeting time slots available)
While you're there, take a walk along the sandy beaches of the Jersey Shore (our retreat will take place only a few miles from the ocean).
Click here for Location and Lodging
Writing for Your Life is pleased to offer 0.9 Continuing Education Units (CEUs) for pastors for this advanced writer's retreat. Writing for Your Life is a member of the Association of Leaders in Lifelong Learning for Ministry (formerly the Society for the Advancement of Continuing Education for Ministry).
About the Speakers:
Robert Benson is author of twenty books, including Between the Dreaming and the Coming True, Living Prayer, Venite, The Echo Within, The Game, and Dancing on the Head of a Pen — books about the search for the Holy in the midst of our ordinary lives. As a retreat leader and workshop teacher, Benson speaks on the life of prayer and contemplation, the disciplines and rituals of Christian spiritual practice, and the art and craft of writing. He is an adjunct faculty member for the Academy for Spiritual Formation, was named a Living Spiritual Teacher by Spirituality and Practice, and a member of The Friends of Silence & of the Poor, an ecumenical prayer community. Benson's roots are in Nashville, Tennessee, though these days he spends his time traveling and writing and speaking. He does dance on the head of a fountain pen every day no matter where he happens to be.
Brian Allain serves as Director of the Frederick Buechner Center and produces the Writing for Your Life series of in-person and online writers conferences. At the Buechner Center, Brian led the launch of Mr. Buechner's online presence and grew his social media reach to over 2 million Facebook fans and over 300 thousand Twitter followers. Brian has developed and led writers conferences at Princeton Seminary, Western Theological Seminary, and Belmont University. He led the self-publishing effort for the book Buchner 101: An Introduction to Frederick Buechner. He also provides marketing consulting services to several spiritual authors and institutions. www.enlivenyourtribe.com and www.writingforyourlife.com