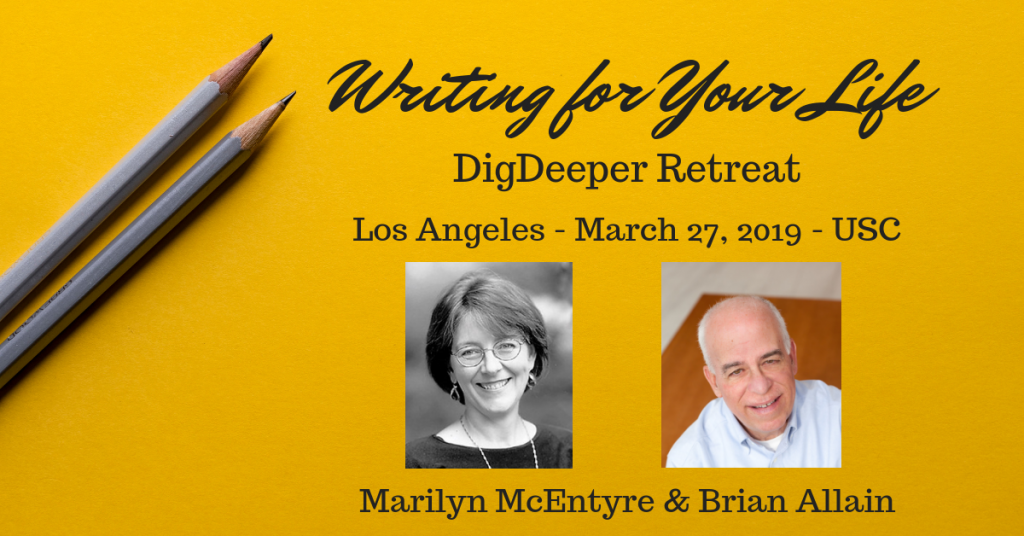 Ready to take your writing to the next level? In addition to the main conference we will also offer an optional DigDeeper Retreat (separate registration required) taught by author and teacher Marilyn McEntyre and Brian Allain, owner of Writing for Your Life and Publishing in Color. It will take place on the University Park Campus of the University of Southern California, at the University Religious Center (URC) – located at E3 on this map   Wednesday, March 27, 2019, the day before the Writing for Your Life conference, and the day after the Publishing in Color conference.
The Retreat cost is $199 and includes break refreshments (lunch and dinner are on your own).
Registration Now Open! Click on the link below to pay now and complete your registration (PayPal, PayPal Credit, or credit/debit card accepted)
CLICK HERE to pay now.
Sneak peek at the schedule:
Wednesday March 27
9:00 AM: Introductions and Session 1 (Marilyn McEntyre) 
"In the Beginning is the Verb:  What Happens How"
Consider how many ways one might find, in any situation, to answer the apparently simple question, "What's going on here?"  In this session
— We'll play with verbs, considering what it takes to record any process well, accurately, faithfully, and in a "lively" manner.  
— We'll think about what "lively" looks like, considering the term not only as a descriptor of style but of spiritual depth.
— We'll look at, and slavishly imitate, short examples from writers whose skill at representing process is particularly worthy of emulation
— We'll work very specifically on ways to offer readers a lively, complex, rich sense of what's "going on" or "happening" or "what's up."
— We'll reflect on how fine-tuning our understanding of process and widening  the ways we speak about process might invite our readers to notice "what's happening" in more nuanced ways.
10:30 AM: Break
11:00 AM: Session 2 (Marilyn McEntyre) 
"Getting from What to How to Why: Completing the Arc of Reflection"
In both fiction and nonfiction, and even in poetry, traveling the arc of development from noticing and naming (WHAT) to tracking the backstory, the life cycle, the processes involved in what you just noticed and named (HOW) to considering what might have caused or shaped what you've noticed and named (WHY) involves slowing down and looking again…and again.  In this session
      — We'll practice moving from what to how to why, considering how and when to expand any of those dimensions of narrative into a serious digression.
      — We'll consider ways to cultivate noticing as a spiritual practice that feeds and fosters more attentive writing
      — We'll consider the role of intuition in noticing, naming, contextualizing, analyzing, and reflecting, and practice a few basic intuitive skills
12:30 PM: Lunch on your own
2:00 PM: Session 3 (Brian Allain) 
"Building Your Tribe"
·      Strategic positioning – how to find your niche and become known
·      Building your following – why it matters and how to do it
·      How marketing is different for spiritual writers
·      Social media marketing recommendations
·      Tactical Facebook marketing guidelines
·      Facebook advertising
3:15 PM: Break
3:45 PM: Session 4 (Brian Allain)
"Why You Should Consider Self Publishing"
This presentation will be similar to that in the main conference, but includes the opportunity for more in-depth conversation and a one-hour phone consultation after the conference.
In this presentation we will discuss how changes in the publishing industry mean that there has never been a better time to consider self publishing. We will review recent and current industry structure, the top 10 reasons to consider self publishing (all the way from tools to economics to platform to sources of assistance), and deal with the concern of legitimacy. We will also consider a couple of examples.
The Retreat cost is $199 and includes break refreshments (lunch and dinner are on your own).
Registration Now Open! Click on the link below to pay now and complete your registration (PayPal, PayPal Credit, or credit/debit card accepted)
CLICK HERE to pay now.
Writing for Your Life is pleased to offer 0.5 Continuing Education Units (CEUs) for pastors for this advanced writer's retreat. Writing for Your Life is a member of the Association of Leaders in Lifelong Learning for Ministry (formerly the Society for the Advancement of Continuing Education for Ministry).
Return to Writing for Your Life main conference page
Return to Publishing in Color main conference page
Leader bios:
Marilyn McEntyre is a writer and professor of literature and medical humanities at UC Berkeley and at New College, Berkeley. Marilyn is the author of 15 books, including Caring for Words in a Culture of Lies and Word by Word. A new collection of poems, Occasions, was released in October and her newest book of reflections, When Poets Pray, is out this spring.  She has won several outstanding teaching awards and was recently awarded a Christianity Today 2015 book award.
Her writing has appeared in The Christian Century, Weavings, Sojourners, Prism, Conversations, Christianity Today, Academic Medicine, Medical Humanities, Literature and Medicine, and a variety of other academic and trade publications.
She leads retreats and writing workshops. She cares about connecting spirituality, politics, food, healthcare, care for the earth and its creatures, care for language and public discourse, and finding new ways to live together on a planet that needs healing.
Website: http://marilynmcentyre.com/
Brian Allain leads Writing for Your Life, a resource center for spiritual writers, and provides marketing services for authors and companies through Enliven Your Tribe! His work includes the Publishing in Color conference series, which is intended to increase the number of books published by under-represented groups of spiritual writers.  Previously Brian served as Founding Director of the Frederick Buechner Center where he led the launch of Mr. Buechner's online presence and established several new programs and strategic partnerships. Brian has developed and led spiritual writers conferences at Princeton Theological Seminary, Western Theological Seminary, Belmont University, New Brunswick Seminary, and several churches. He led the self-publishing effort for the book Buchner 101: An Introduction to Frederick Buechner. www.enlivenyourtribe.com, www.writingforyourlife.com and www.publishingincolor.com.