Dr. Robyn Henderson-Espinoza – Broadleaf Books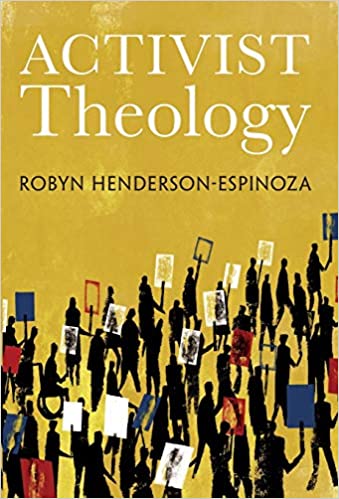 Learn more and purchase from:
In this searing and personal book, intellectual activist and theologian Robyn Henderson-Espinoza bridges the gap between academia and activism, bringing the wisdom of the streets to the work of scholarship, all for the sake of political liberation and social change for marginalized communities. This is an invitation–a powerful and provocative call-to-action–to academic theologians to the work of social activism through movement building. Activist Theology summons all to take up radical acts of labor that uses scholarship and contemplation to build bridges with difference and make connections of solidarity, rooted in collective action. Featuring poetry by Brittini "Ree Belle" Gray, this rich and interdisciplinary work draws on continental philosophy, queer theology, and critical class theory in accessible and artful ways, using story, personal narratives, and sharp cultural analysis to bring clarity to the methods, sources, and objectives of activist theology. This is a key step forward in the contemporary conversation about theology and social action and will be essential reading for all those who want to see theology and ethics break new ground in the work of justice, hope, and liberation for all.
"Henderson-Espinoza reminds us that radical social change requires truth drawn from the depths of both theology and the stories of everyday life. Activist Theology is a challenge to us all that invites us to reveal our own stories, deeply engage our collective wisdom, and, above all, do more than talk of revolution and actually participate in its happening." –Jennifer Knapp, singer/songwriter; founder Inside Out Faith; author of Facing the Music
"In a world beset by interlocking supremacies — including white, Christian, rich, straight, cisgendered, and wealthy — Robyn Henderson-Espinoza announces a theology that lives out loud in the streets and expresses itself in day-to-day life, bridging radical difference not with mere tolerance or inclusion but with revolutionary love. Appropriately, the book climaxes in poetry by Ree Belle, because prose alone cannot adequately convey this urgent invitation to join in the 'palpitation' of the world for justice, joy, and peace." –Brian D. McLaren, author/speaker/activist
"Robyn Henderson-Espinoza embodies a theology that has transgressed the restricted boundaries of the academy, church, and the movement. Activist Theology is written for those who know deep in their gut that theology must be reborn, and that in its afterlife it must take seriously the impact of its lived ethics in the way of Jesus. It reminds us that faith without works is dead." –Drew G. I. Hart, Messiah College; author of Trouble I've Seen: Changing the Way the Church Views Racism
"Activist Theology is the book I desperately wish I had been able to read ten years ago. As an academic, Henderson-Espinoza has made this inspiring work accessible and yet still very challenging. They are not just calling us to a new way to think but to a new way to live. Activist Theology is a guidebook to sparking new conversations and practices. At the same time, it is a memoir and insight into Henderson-Espinoza's story, helping us reflect upon on our stories. I'm so honored to do life alongside this human as well as utilize their work as a catalyst and resource for my own work. This is what Activist Theology invites us all to do." –Melissa Greene, teacher; cofounder of IMAGINARIUM
"With passion and intimacy rarely found in theological thought, Robyn Henderson-Espinoza's Activist Theology is a profound delight, a gutsy proclamation of justice and freedom. Building on their own personal narrative and love for less-conventional God constructs, Henderson-Espinoza promotes a forward-thinking dogma, one that puts marginalized people groups at the forefront. They don't simply sing hope for forgotten communities, they offer creative and practical ways to inspire liberation, build bridges, and shine unapologetic light on all of the sins that define mainstream theologies and cultures." –Matthew Paul Turner, author of Our Great Big American God and Churched
"Jesus resisted a religion that served as chaplain to the empire. Karl Marx insisted a philosophy must not end at description but genuine change. Henderson-Espinoza demands a theological exile until religion returns to the streets. In Activist Theology, you get a full-throated and enfleshed vision of a theology worth living. We know that a beautiful memoir can move us. A fiery sermon can inspire us. A brilliant vision can seduce us. Activist Theology is all three and more. Henderson-Espinoza has written a book I didn't know I needed. Tell them 'thank you' in advance and get it today." –Tripp Fuller, creator and host of Homebrewed Christianity podcast