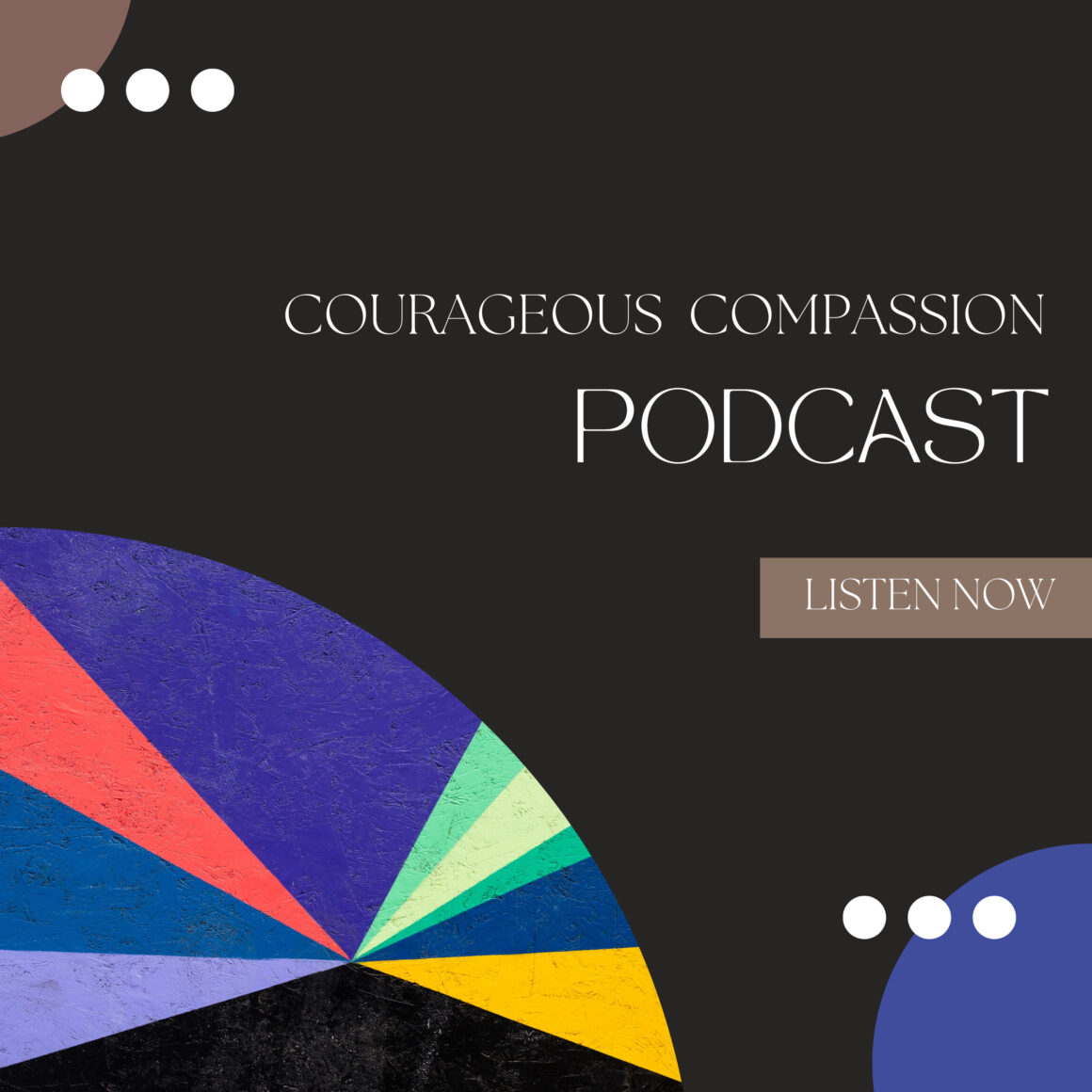 In March of 2023 we launched a new podcast series, Courageous Compassion, in partnership with Compassionate Christianity. We feature discussions with authors who are releasing important spiritual books. You can find our episodes below, as well as on Apple iTunes, Spotify, Google Podcasts, Stitcher, TuneIn, Anchor, Breaker, RadioPublic, and other popular podcast directories.
Courageous Compassion series: 
Episode 2: Book interview with Casey Tygrett, author of The Gift of Restlessness: A Spirituality for Unsettled Seasons
Episode 1: Book interview with Sophfronia Scott, author of Wild, Beautiful, and Free
————————————————————————————————
Past podcast episodes: 
Episode 136: An Introduction to Ghostwriting with Andy Rogers – available here. 
Episode 135: Book interview with Mark Schaefer – "Belonging to the Brand: Why Community is the Last Great Marketing Strategy" – available here. 
Episode 134: Book interview with Mark Yaconelli – "Between the Listening and the Telling: How Stories Can Save Us"
Episode 133: Book interview with Kate Ott – "Sex, Tech, and Faith: Ethics for a Digital Age"
Episode 132: Book interview with Glenys Nellist – "Little Mole Goes to School"
Episode 131: Book interview with Amy Kenny – "My Body Is Not a Prayer Request: Disability Justice in the Church"
Episode 130: Book interview with Kate Meyer – "Faith Doesn't Erase Grief: Embracing the Experience and Finding Hope"
Episode 129: Book interview with Sharei Green, Beckah Selnick, and Nikki Faison – "God's Holy Darkness"
Episode 128: Book interview with Michael Granzen – "Breaking Through the Plate-Glass Window—Prophetic Fragments: On Doing Justice and Loving Kindness in a Time of Reckoning"
Episode 127: Book interview with Brianne Edwards – "A Thousand Pounds: Finding the Strength to Live and Love under the Weight of Unbearable Loss"
Episode 126: Book interview with Patrice Gopo for "All the Places We Call Home"
Episode 125: Book interview with Susanna Snyder and Ellen Ott Marshall – "Parenting for a Better World: Justice Practices for Your Family and the Planet"
Episode 124: Book interview with Eric Minton for "It's Not You, It's Everything: What Our Pain Reveals about the Anxious Pursuit of the Good Life"
Episode 123: Book interview with Deborah Nelson Linck for "Pauli Murray: Shouting for the Rights of All People"
Episode 122: Book interview with Brian McLaren for "Do I Stay Christian?: A Guide for the Doubters, the Disappointed, and the Disillusioned"
Episode 121: Book interview with John Roberto for "Lifelong Faith: Formation for All Ages and Generations"
Episode 120: Book interview with Glenys Nellist –for "Baptized in the Water: Becoming a member of God's family"
Episode 119: Book interview with Hannarich Asiedu for "Decoding the In-Law Code: Master Your Mind for Peaceful Relationships"
Episode 118: Book interview with Marilyn McEntyre and Shirley Showalter for "The Mindful Grandparent: The Art of Loving Our Children's Children"
Episode 117: Book interview with Caryn Rivadeneira for "Saints of Feather and Fang: How the Animals We Love and Fear Connect Us to God"
Episode 116: Book interview with Celine O'Donovan for "Gifts from the Devastation: What Cancer Taught Me About Life"
Episode 115: Book interview with Terry Catasús Jennings and Rosita Stevens-Holsey for "Pauli Murray: The Life of a Pioneering Feminist and Civil Rights Activist"
Episode 114: Book interview with Laura Alary for "Sun in my Tummy" and "The Astronomer Who Questioned Everything"
Episode 113: Book interview with David Morris for "Lost Faith and Wandering Souls: A Psychology of Disillusionment, Mourning, and the Return of Hope"
Episode 112: Book interview with Patrick Henry for "Flashes of Grace: 33 Encounters with God" and "Benedictine Options: Learning to Live from the Sons and Daughters of Saints Benedict and Scholastica"
Episode 111: Book interview with Caroline Hamilton-Arnold for "Wonder Awaits!"
Episode 110: Book interview with Jennifer Grant for "Sing, Wrestle, Spin: Prayers for Active Kids"
Episode 109: Book interview with Sharon Elliott for "Why I Get Into Trouble: I Really Need To Know"
Episode 108: Book interview with Amy Julia Becker for "To Be Made Well: An Invitation to Wholeness, Healing, and Hope"
Episode 107: Book interview with Ashley Abercrombie for "Love is the Resistance: Learn to Disagree, Resolve the Conflicts You've Been Avoiding and Create Real Change"
Episode 106: Book interview with Tonya May Avent for "Grieving, Loss, and Healing" from Chicken Soup for the Soul
Episode 105: Lil Copan presents: "Discovering What Publishers are Looking For"
Episode 104: Book interview with Sandy Eisenberg Sasso and Amy-Jill Levine for "The Good for Nothing Tree"
Episode 103: Book interview with Brittini Palmer – "Small Group Workbook: The Bible in 52 Weeks for Women"
Episode 102: Book interview with Brandan Robertson – "Filled to Be Emptied: The Path to Liberation for Privileged People"
Episode 101: "An Inside Look at an Acquisition Editor's Job" by Jenny Baumgartner (HarperCollins / Thomas Nelson Books)
Episode 100: Hymn interview with Wes Granberg-Michaelson and Ken Medema – "Love Can Open Any Door"
Episode 99: "How a Publisher Thinks" with Vinita Hampton Wright
Episode 98: Book interview for "Framing the Moment: Haiku Conversations"
Episode 97: "Writers Conference Prep 101: Preparing a Killer Pitch and Steps to Meeting with Editors and Agents" by Edwina Perkins (Harambee Press / Iron Stream Media)
Episode 96: Book interview with Dr. Lisa Miller for "The Awakened Brain: The New Science of Spirituality and our Quest for an Inspired Life" and "The Spiritual Child: The New Science on Parenting for Health and Lifelong Thriving"
Episode 95: "Preparing Your Novel Summaries for Agents and Editors" – by Erin Healy
Episode 94: Book interview with Mori Morris-Mitchell – "The Book on Joy"
Episode 93: Removing Roadblocks to Getting Published with Margot Starbuck – "The 3 Big Roadblocks to Getting a Publisher to Say 'Yes' (And 1 Bonus Roadblock!): Writing an Excellent Book Proposal"
Episode 92: Book interview with Ann Kansfield – "Be the Brave One: Living Your Spiritual Values Out Loud and Other Life Lessons"
Episode 91: Sarah Arthur: "Getting it Done: 10 Tips for Finishing What You Started"
Episode 90: Book interview with Lauren Hunter for "Write Your Journey: A Step-by-Step Guide to Write Your Life Story Fast"
Episode 89: Book interview with Marva Smith for "Time to Thrive: A Busy Woman's Devotional Journal"
Episode 88: Book interview Jennie McLaurin for "Designed to Heal: What the Body Shows Us about Healing Wounds, Repairing Relationships, and Restoring Community"
Episode 87: Jennifer Grant – "Developing a Small Business Mindset: Clear Roadblocks such as Procrastination, Perfectionism, and Disorganization in Your Writing Career"
Episode 86: The late Rachel Held Evans: "Who Do You Think You Are? – Writing a Meaningful Memoir in an Overshare Age"
Episode 85: Jana Riess: "Crafting Your Spiritual Memoir: Why and How to Tell Your Story"
Episode 84: Father James Martin: "A Discussion on Spiritual Writing"
Episode 83: Book interview with Jennifer Grant for "Dimming the Day: Evening Meditations for Quiet Wonder"
Episode 82: Book interview with Rev. Dr. Jacqui Lewis for "Fierce Love: A Bold Path to Ferocious Courage and Rule-Breaking Kindness That Can Heal the World"
Episode 81: Book interview with John Pavlovitz for "If God Is Love, Don't Be a Jerk: Finding a Faith That Makes Us Better Humans"
Episode 80: Book interview with Philip Yancey for "Where The Light Fell: A Memoir"
Episode 79: Book interview with Danté Stewart for "Shoutin' in the Fire: An American Epistle"
Episode 78: Book interview with Patricia Raybon for her first novel "All That Is Secret"
Episode 77: Book interview with Glenys Nellist for "'Twas the Season of Advent: Devotions and Stories for the Christmas Season"
Episode 76: Book interview with Kirsten Powers for "Saving Grace: Speak Your Truth, Stay Centered, and Learn to Coexist with People Who Drive You Nuts"
Episode 75: Book interview with Frank Schaeffer for "Fall in Love, Have Children, Stay Put, Save the Planet, Be Happy"
Episode 74: Book interview with Dominique DuBois Gilliard for "Subversive Witness: Scripture's Call to Leverage Privilege"
Episode 73: Book interview with Adam Russell Taylor for "A More Perfect Union: A New Vision for Building the Beloved Community"
Episode 72: Book interview with Jennifer Grant for "Once Upon a Time Not So Long Ago"
Episode 71: Book interview with Glenys Nellist for "I Wonder: Exploring God's Grand Story: an Illustrated Bible"
Episode 70: Book interview with Duke Kwon for "Reparations: A Christian Call for Repentance and Repair"
Episode 69: Book interview with Kate Rademacher for "Reclaiming Rest: The Promise of Sabbath, Solitude, and Stillness in a Restless World"
Episode 68: Book interview with Justin R. Phillips for "Know Your Place: Helping White, Southern Evangelicals Cope with the End of The(ir) World"
Episode 67: Book interview with Quantrilla Ard for the Chicken Soup for the Soul title "I'm Speaking Now: Black Women Share Truth in 101 Stories of Love, Courage, and Hope"
Episode 66: Book interview with Ross Murray for "Made, Known, Loved: Developing LGBTQ-Inclusive Youth Resources"
Episode 65: Book interview with Lamar Hardwick for "Disability and the Church: A Vision for Diversity and Inclusion"
Episode 64: Book interview with Michelle Reyes for "Becoming All Things: How Small Changes Lead To Lasting Connections Across Cultures"
Episode 63: Book interview with Michelle Layer Rahal for "Straining Forward: One woman's journey from oppression to redemption in the wake of the Vietnam War"
Episode 62: Book interview with Troy Brand, Nicole Parker, Gena Thomas for "The LEAD Anti-Racism Challenge: A 40-Day Journey"
Episode 61: Book interview with Laura Mariko Cheifetz for "Race in America: Christians Respond to the Crisis"
Episode 60: Book interview with Tyler Sit for "Staying Awake: The Gospel for Changemakers"
Episode 59: Book interview with Diana Butler Bass for "Freeing Jesus: Rediscovering Jesus as Friend, Teacher, Savior, Lord, Way, and Presence"
Episode 58: Book interview with Pádraig Ó Tuama
Episode 57: Interview with Rev. Justin Hancock for "How to Heal Our Divides"
Episode 56: Book interview with Mark Schaefer for "Cumulative Advantage: How to Build Momentum for your Ideas, Business and Life Against All Odds"
Episode 55: Book interview with Sophfronia Scott for "The Seeker and the Monk: Everyday Conversations with Thomas Merton"
Episode 54: Book interview with Steven Charleston for "Ladder to the Light: An Indigenous Elder's Meditations on Hope and Courage"
Episode 53: Book interview with Sarah Bessey for "A Rhythm of Prayer: A Collection of Meditations for Renewal"
Episode 52: Book interview with Bruce Reyes-Chow for "In Defense of Kindness: Why It Matters, How It Changes Our Lives, and How It Can Save the World"
Episode 51: Book launch interview with Sarah Griffith Lund for "Blessed Union: breaking the silence about mental illness and marriage"
Episode 50: Book launch interview with Kerry Connelly for "Good White Racist? Confronting Your Role in Racial Injustice"
Episode 49: An interview with Amy Newmark from Chicken Soup for the Soul
Episode 48: Reading Hope in Trying Times with Jim Wallis
Episode 47: Book launch interview with Father James Martin – "Learning to Pray: A Guide for Everyone"
Episode 46: Book launch interview with Denise Williams – "Wellspring of Words"
Episode 45: Book launch interview with Lindsey Krinks – "Praying with Our Feet: Pursuing Justice & Healing on the Streets"
Episode 44: Reading Hope in Trying Times with Jevon Bolden
Episode 43: Reading Hope in Trying Times with Glenys Nellist
Episode 42: Book launch interview with Michael W. Waters – "Something in the Water: A 21st Century Civil Rights Odyssey"
Episode 41: "Reading Hope in Trying Times" with Jonathan Merritt
Episode 40: Book launch interview with Susan K. Smith – "With Liberty and Justice for Some: The Bible, the Constitution, and Racism in America"
Episode 39: "Reading Hope in Trying Times" with Leighton Ford
Episode 38: Book launch interview with Jemar Tisby "How to Fight Racism"
Episode 37: Book launch interview with Wes Granberg-Michaelson for his book "Without Oars: Casting Off into a Life of Pilgrimage"
Episode 36: "Reading Hope in Trying Times" with Otis Moss III
Episode 35: "Reading Hope in Trying Times" with Brenda Salter McNeil
Episode 34: Book launch interview with Mark Feldmeir for his book "A House Divided: Engaging the Issues through the Politics of Compassion"
Episode 33: Book launch interview with Brian McLaren for his book "Faith After Doubt: Why Your Beliefs Stopped Working and What to Do About It"
Episode 32: Book launch interview with Barbara Brown Taylor for her book "Always a Guest: Speaking of Faith Far From Home"
Episode 31: Book launch interview with Luci Shaw for "The Generosity"
Episode 30: Book launch interview with Victoria McAfee for "Blessed is She"
Episode 29: Book launch interview with Glenys Nellist for "Little Mole's Christmas Gift"
Episode 28: Book launch interview with Kathleen Long Bostrom for "The Worst Christmas Ever" and "Will You Be Friends with Me?"
Episode 27: "Reading Hope in Trying Times" with Carrie Newcomer
Episode 26: "Reading Hope in Trying Times" with Lori Erickson
Episode 25: "Reading Hope in Trying Times" with Rev. Dr. Jacqui Lewis
Episode 24: "Faith, Hope, and Love During an Election" with Jonathan Wilson-Hartgrove
Episode 23: "Faith, Hope, and Love During an Election" with Robert P. Jones
Episode 22: "Faith, Hope, and Love During an Election" with Guthrie Graves-Fitzsimmons
Episode 21: "Faith, Hope, and Love During an Election" with Rev. Dr. Emilie Townes
Episode 20: "Faith, Hope, and Love During an Election" with Rev. Mark Feldmeir
Episode 19: "Faith, Hope, and Love During an Election" with Amy-Jill Levine
Episode 18: "Faith, Hope, and Love During an Election" with Amanda Henderson
Episode 17: "Faith, Hope, and Love During an Election" with Otis Moss III
Episode 16: "Faith, Hope, and Love During an Election" with Dr. Robyn Henderson-Espinoza
Episode 15: "Faith, Hope, and Love During an Election" with Parker Palmer
Episode 14: "WOW Writing" presented by Joyce Dinkins from Our Daily Bread Ministries
Episode 13: "Reading Hope in Trying Times" with Brandan Roberston
Episode 12: "Reading Hope in Trying Times" with Kathleen Norris
Episode 11: "Reading Hope in Trying Times" with Matthew Paul Turner
Episode 10: "Reading Hope in Trying Times" with Lisa Crayton
Episode 9: "The Art of Spiritual Writing" Vinita Hampton Wright
Episode 8: Reading Hope in Trying Times with Shane Claiborne
Episode 7: Reading Hope in Trying Times with Barbara Brown Taylor
Episode 6: Reading Hope in Trying Times with Mako Fujimura
Episode 5: Jenny Baumgartner from HarperCollins Christian Publishing presents "An Acquisitions Editor's Expectations"
Episode 4: Reading Hope in Trying Times with Brian McLaren
Episode 3: Reading Hope in Trying Times with Patricia Raybon
Episode 2: Reading Hope in Trying Times with Diana Butler Bass
Episode 1: Reading Hope in Trying Times with Philip Yancey