by Matthew Paul Turner – Convergent Books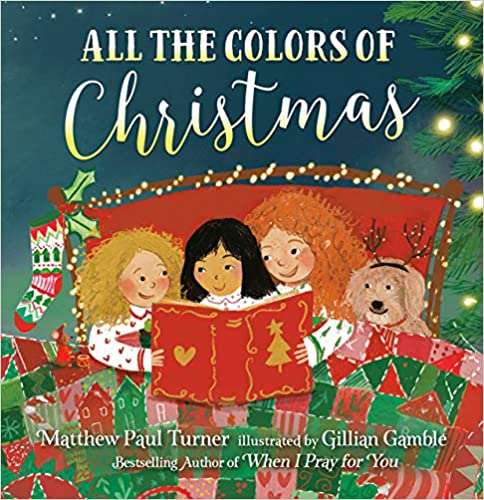 Learn more and purchase from:
The bestselling author of When God Made You and When I Pray for You captures the wonder of Christmas and the joy of Jesus' birth in a lyrical exploration of what makes the season so colorful, magical, and personal.
In his trademark style, Matthew Paul Turner celebrates the Christmas season, particularly the colors that infuse the holiday and all the memorable sensations and experiences—including a festive market, sledding, and nativity scene—connected to those bright hues. Matthew draws his readers into a whirling ribbon of the familiar reds and greens of Christmas, as well as other festive hues, including white, gold, blue, and brown.
Christmas is RED.
It's a bright shiny sled.
It's candy canes,
and toy store lanes.
It's sprinkles on sweet bread.
Christmas is BROWN
It's pinecones scattered round…
It's a cradle soft with hay
And a donkey's gentle bray.
It's God within
a baby's skin
on that very first Christmas Day.

All the colors come together when readers are reminded that Christmas is YOU—you're a part of the story, the joy and the glory! Matthew shows us again and again that the holidays are nothing without being with the people we love, celebrating treasured traditions, and making new memories—all in vivid color.