by Barbara Brown Taylor – Westminster John Knox Press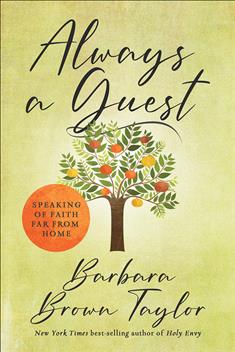 Learn more and purchase from:
From beloved writer and renowned preacher Barbara Brown Taylor comes a new collection of stories and sermons of faith, grace, and hope. Taylor, author of the best-selling books Holy Envy and An Altar in the World, among others, finds that when you are the invited guest speaking of faith to people you don't know, one must seek common ground: exploring the central human experience. Full of Taylor's astute observations on the Spirit and the state of the world along with her gentle wit, this collection will inspire Taylor's fans and preachers alike as she explores faith in all its beauty and complexity.
Taylor s writing is lyrical and compelling, a feast for the senses and the intellect. Recommended for all libraries. — Library Journal, starred review
Always a Guest is a pitch-perfect sermon collection for these anxious times.—Foreword Reviews
In these anxious times BBT travels light, but her humor is reassuring, her scriptural insights challenging, and her breadth of vision inspiring. Always a Guest is the guest who becomes family, even in a pandemic.—Spectrum
Serving as a pastor of a church in great transition and navigating leading and being Christ s church in the throes of a pandemic, I strongly recommend Barbara Brown Taylor s book, Always a Guest. In each chapter, a well-crafted sermon and a reminder to stay in God s Word. In each chapter, a priceless reminder to trust that the Holy Spirit will make necessary connections. In each chapter, a reminder that we are always guests wading in cavernous pools of God s good love in Jesus Christ. —The Presbyterian Outlook—
Always a Guest is a pitch-perfect sermon collection for these anxious times. —Foreword Reviews
In these anxious times BBT travels light, but her humor is reassuring, her scriptural insights challenging, and her breadth of vision inspiring. Always a Guest is the guest who becomes family, even in a pandemic. —Spectrum