by Kathleen Norris – Riverhead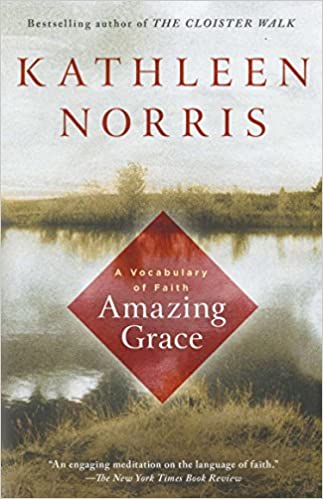 Learn more and purchase from:
A NEW YORK TIMES NOTABLE BOOK OF THE YEAR

From the New York Times-bestselling author of The Cloister Walk, a book about Christianity, spirituality, and rediscovered faith.
Struggling with her return to the Christian church after many years away, Kathleen Norris found it was the language of Christianity that most distanced her from faith. Words like "judgment," "faith," "dogma," "salvation," "sinner"—even "Christ"—formed what she called her "scary vocabulary," words that had become so codified or abstract that their meanings were all but impenetrable. She found she had to wrestle with them and make them her own before they could confer their blessings and their grace. Blending history, theology, storytelling, etymology, and memoir, Norris uses these words as a starting point for reflection, and offers a moving account of her own gradual conversion. She evokes a rich spirituality rooted firmly in the chaos of everyday life—and offers believers and doubters alike an illuminating perspective on how we can embrace ancient traditions and find faith in the contemporary world.
"An engaging meditation on the language of faith."—The New York Times Book Review
"It's hard to imagine less off-putting or pious writing about religion than this sublimely commonsensical lexicon of words and concepts that, as Kathleen Norris explains them, have rarely sounded less frightening—or quite so simple to understand."—Elle
"Definitely worthwhile reading… She combines an impressive understanding of theology with personal experience, making her essays read like letters from a highly literate friend."—People

"A unique and glorious voice."—Boston Globe

"[Kathleen Norris] writes about religion with the imagination of a poet."—Chicago Tribune

"One of the most eloquent yet earthbound spiritual writers of our time…frequently irreverent and funny… She makes us converts to her simple faith of warmth." —San Francisco Chronicle