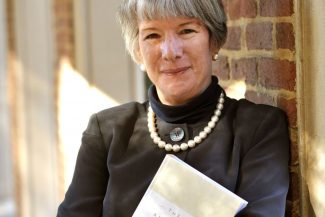 Amy-Jill Levine is University Professor of New Testament and Jewish Studies and Mary Jane Werthan Professor of Jewish Studies at Vanderbilt (Divinity and A&S); she is also Affiliated Professor, Woolf Institute: Centre for Jewish-Christian Relations, Cambridge.
Her books include The Misunderstood Jew: The Church and the Scandal of the Jewish Jesus (Publisher's Weekly Best Books of 2007; audio books); Short Stories by Jesus: The Enigmatic Parables of a Controversial Rabbi (Catholic Book Club; translations: Spanish, Italian; audio books); The Meaning of the Bible: What the Jewish Scriptures and the Christian Old Testament Can Teach Us (with Douglas Knight); The New Testament, Methods and Meanings (with Warren Carter); and The Gospel of Luke (with Ben Witherington III (the first full-length biblical commentary co-authored by a Jew and an Evangelical).
Her children's books (with Sandy Sasso) include Who Counts? 100 Sheep, 10 Coins and 2 Sons (2017 Junior Library Guild List; translations: Spanish, Korean); The Marvelous Mustard Seed (2018 Junior Library Guild List), and Who Is My Neighbor? With Marc Brettler she edited The Jewish Annotated New Testament; she also edited the 13-volume Feminist Companions to the New Testament and Early Christian Writings, and The Historical Jesus in Context (Princeton Readings in Religion; translation: Japanese); she is the New Testament editor of the new Oxford Biblical Commentary Series.
Her adult education programs and tapes include the Teaching Company Great Lectures: "Introduction to the Old Testament," "Great Figures of the Old Testament," and "Great Figures of the New Testament"; Abingdon adult education: Short Stories by Jesus Study Guide; Entering the Passion of Jesus: A Beginner's Guide to Holy Week; and Light of the World: A Beginner's Guide to Advent. She has given over 500 lectures on the Bible, Christian-Jewish relations, and Religion, Gender, and Sexuality across the globe.
Professor Levine has held grants from the Mellon Foundation, NEH, and ACLS, and she has held office in the Society of Biblical Literature, Catholic Biblical Association, and Association for Jewish Studies. She served as Alexander Robertson Fellow (University of Glasgow), and the Catholic Biblical Association Scholar to the Philippines. In Spring 2019 she was the first Jew to teach New Testament at Rome's Pontifical Biblical Institute.
Holding the B.A. from Smith College, and the M.A. and Ph.D. from Duke University, she has honorary doctorates from the University of Richmond, the Episcopal Theological Seminary of the Southwest, the University of South Carolina-Upstate, Drury University, Christian Theological Seminary, and Franklin College. A self-described Yankee Jewish feminist, Professor Levine is a member of Congregation Sherith Israel, an Orthodox Synagogue in Nashville, although she is often quite unorthodox.