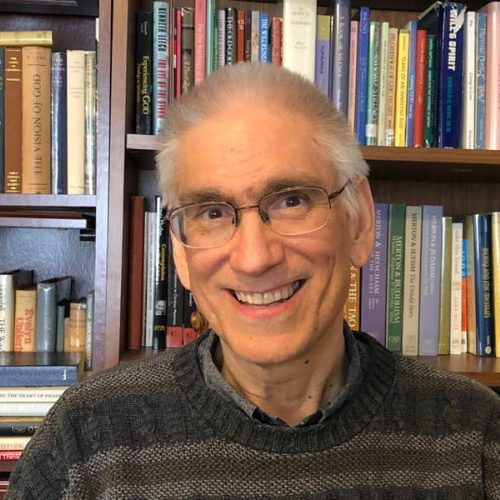 Carl McColman is a contemplative writer, speaker, teacher, soul friend, and storyteller.
He is the author of numerous books, including The Big Book of Christian Mysticism, Answering the Contemplative Call, An Invitation to Celtic Wisdom and Unteachable Lessons. His latest book, Eternal Heart, was published in the summer of 2021. He is now writing a book on finding the mystical wisdom in the Bible.
Several of Carl's books have won awards or recognition, notably Befriending Silence which won the 2015 "Georgia Author of the Year" award in the field of inspirational/religious writing. His work has been warmly endorsed by many leading voices in the field of Christian spirituality, such as bestselling author Brian D. McLaren who said, "If you don't know about Carl McColman and his work, you should."
Carl studied at James Madison University (BA, English) and George Mason University (MA, Professional Writing and Editing). His formation in the spiritual life includes training with the Shalem Institute in Washington, DC; the Institute for Pastoral Studies in Atlanta; and the Monastery of the Holy Spirit in Conyers, GA; where Carl is a Life-Professed Lay Cistercian: a layperson under formal spiritual guidance with the Trappist monks.
After a career as a bookseller, he entered into full-time lay ministry as a retreat director, writer and speaker. Since 2016 he and his wife have served as adult catechists, co-directing the RCIA (Rite of Christian Initiation) process at their parish. He is a commissioned Centering Prayer presenter with Contemplative Outreach of North Georgia, and a spiritual director serving individuals both in metro Atlanta and online.
Carl's writing appears on numerous websites, including Patheos, the Huffington Post, Day One, Contemplative Life, and Medium. He regularly posts new content to his personal blog at www.anamchara.com/blog on topics such as Christian mysticism, contemplative practice, Celtic spirituality, and interspirituality (interreligious dialogue).
Carl co-hosts the Encountering Silence podcast with filmmaker Cassidy Hall and theologian Kevin Johnson. He also creates video and audio content for his website.
Carl and his wife, artist Fran McColman, live near Atlanta in a small house filled with cats, books, icons and love. Their daughter, Rhiannon, passed away after a long illness at age 29 in 2014. When they take a break from their creative work, you may find Carl and Fran wandering around the mountains of western North Carolina or taking long walks along the Emerald Coast of Florida.