By Amy Newmark & Breena Clarke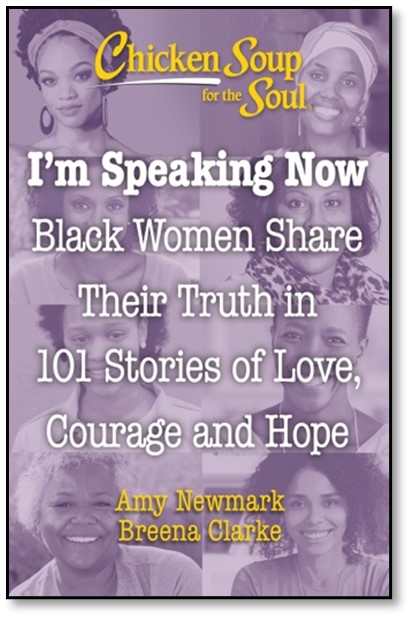 Learn more and purchase here:
Now more than ever, the strong, independent, courageous voices of Black women are being heard loud and clear. Black women are speaking, for themselves and their families, and everyone is listening.
This unique collection of 101 stories and poems is for readers of all colors, not just the Black community, as these contributors share their dreams, their triumphs and failures, and their lives, which have unique challenges and hardships that are not well understood by others. Readers of color will recognize their own struggles in these pages, and white readers will benefit from an inside view of Black life in America, Canada and beyond.
The storytellers share their truth about life, love, family, faith, and hope in these pages. These stories are real and raw, and they reflect the current realities in our society, with police brutality, white supremacists coming out of the shadows, and the everyday racism that makes women worry when their family members leave the house. On the other hand, you'll find stories filled with light and hope, especially with the new administration in D.C., and plenty of humor too, about grandmas and aunties, food and family, hair disasters, and Black culture and traditions.
Amy Newmark is the Editor-in-Chief and Publisher of Chicken Soup for the Soul, as well as the author and/or editor of its last 170 books. She started running the company's publishing business in 2008 after a three-decade career in the worlds of finance and technology. She and her husband have four children and three grandchildren. She is a graduate of Harvard College.
Coauthor Breena Clarke is a Black scholar and award-winning novelist. Her debut novel River, Cross My Heart was a New York Times bestseller and an Oprah's Book Club selection. She also wrote Stand the Storm and Angels Make Their Hope Here. She is co-organizer of the Hobart Book Village Festival of Women Writers and is on the faculty of the Stonecoast MFA program at the University of Southern Maine. She is a graduate of Howard University.