by Wendy Lawton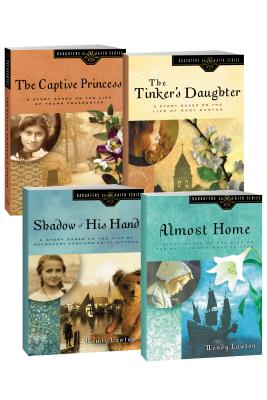 Learn more and purchase from:
This package includes four books of the Daughters of Faith Series Set 1: The Captive Princess, Shadow of his Hand, The Tinker's Daughter, and Almost Home.
There are a few elements of the Daughters of Faith Series that separate it from many other children's book biographies. First, these books are about little girls. They are not biographies of the entire life of these characters- these are stories about girls who made a difference while they were still young. This enables the young girl readers to relate to the characters more than they would if these characters had to wait until they were thirty or forty before doing anything significant. Second, these stories are faith journeys. Lawton gets inside the minds of these girls in order to portray their struggles to make God an active part of their lives.
In The Captive Princess, once upon a time there was an Algonquin princess named Pocahontas, a curious 10-year-old who loved exploring the tidewater lands of her people. One day she encounters strangers, a group of people that look different from her own. She befriends them, and when her people come into conflict with these new settlers, Pocahontas steps in to save the life of one of them by offering her own. Based on the true story of Pocahontas' early life.
In Shadow of His Hand, young Anita Dittman's world crumbles as Hitler begins his rise to power in Germany, but because she's a Christian and only half-Jewish, Anita feels sure she and her family are safe from "the Final Solution." She couldn't have been more wrong. Shadow of His Hand is an inspirational young adult historical fiction book based on the real-life story of Anita Dittman, a Holocaust survivor. It follows her struggle against Nazi persecution and her growth in her relationship with God through the worst of times.

In The Tinker's Daughter, John Bunyan, author of Pilgrim's Progress, only mentioned one of his children in his memoirs- Mary. Born blind, her story still intrigues us today. Mary developed a fierce determination for independence despite her disability after years of proving she was not hindered by her blindness. Only when she admits she needs help does she tap into the Source of all strength.
In Almost Home, the story features the pilgrims' journey to America and of God's providence and provision in their journey. Several of the characters mentioned in the story- Mary Chilton, Constance Hopkins, and Elizabeth Tilley- were actual passengers on the Mayflower Mary Chilton was a young girl when she left her home in Holland and traveled to America onboard the Mayflower with her parents. The journey was filled with trials, joys, and some surprises, but when she reached the New World she experienced a new life, a new freedom, and a new home. Wendy Lawton has taken the facts of the pilgrims' journey to the New World, and from this information filled in personal details to create a genuine and heart-warming story.