by J. Dana Trent – Chalice Press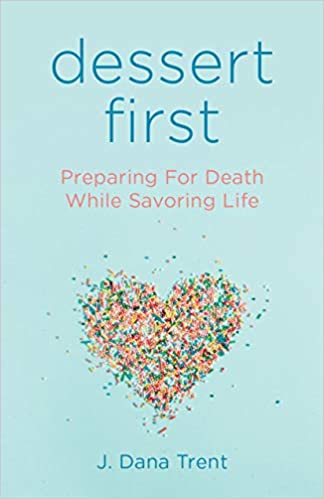 Learn more and purchase from:
In the year she served as a chaplain in a hospital "death ward," Dana Trent accompanied more than 200 people — and their families — on their passage from life to death. Dessert First gathers those stories and lessons, as well as others from her journey with her dying mom, to illuminate the complexity of death and grief, and how we all might better prepare for a "good death." Dessert First is a deeply personal, touching, and sometimes humorous look at death and dying, and the ways we cope and create meaning for the inevitable end of life. A full appendix includes religious, spiritual, practical, and legal resources for the reader and their loved ones.
In this disarmingly forthright and often funny book, Dana Trent reminds her readers that we re all terminal, and we ll all ride the grief train sooner or later–so why not start the conversation now? Her ability to convey what she has learned as a hospital chaplain, a daughter, and a teacher grounds every page in the real world, making it impossible to resist her invitation to begin thinking about The End in a life-giving way. —Barbara Brown Taylor, author of Altar in the World
If grief is the language of love, this unflinching book shows us how to love a little deeper. —Kate Bowler, author of Everything Happens for a Reason (And Other Lies I've Loved)
Dessert First really helped me. It helped me prepare for the deaths of people I love. It helped me prepare for my own death. Don t worry: it isn t a book written by Miss Morbidity. J. Dana Trent is funny and professional and human, exactly the kind of person you want to help you face life s one actual certainty. —Brian D. McLaren, author, The Great Spiritual Migration