by Jennifer Grant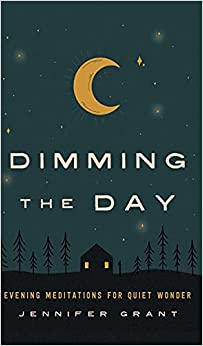 Learn more and purchase here:
The moon is out, the air has cooled, and you are ready for bed. You know that scrolling on your phone does not draw you toward sleep but adds to your worries. Power down your phone, take a breath, and begin to dim the day.
Research suggests that we should refrain from screens at bedtime. But it can be hard to give up social media and news without something to take its place. In these pages, author Jennifer Grant offers gentle meditations that help you direct your gaze away from screens and uncertainties and toward the natural world. Dimming the Day guides you to focus on the wonders of God's good earth, from the ordinary head of a dandelion to the exquisite beauty of a fractal.
Replace anxiety with awe, distraction with focus, and worry with true rest. Calm your mind and settle into stillness. It is time to dim the day.
"Jennifer Grant's reflections on creature and place in this bedtime companion intentionally settle the reader. It's an invitation to lay aside life's hustle and bustle and turn to a time of rest. Don't be surprised, though, if whimsical butterflies, dandelions, hummingbirds, and such enter your dreams." –Traci Rhoades,author of Not All Who Wander(Spiritually) Are Lost: A Story of Church
"Grant writes beautifully in a way that only someone who lives beautifully can do. This book is a rare antidote to the anxiety of our age." –Jon M. Sweeney, author of Feed the Wolf: Befriending Our Fears in the Way of Saint Francis
"This gently penned, innovative collection of twenty evening meditations is an invitation to worry less about tomorrow and wonder more about the beauty of this earth and the great God who made it, in whose arms we can safely and securely fall asleep. Dimming the Day is destined to find a place on many a bedside table, including mine." –Glenys Nellist, children's author of the Love Letters from God, Snuggle Time, and Little Mole series
"Into this chaotic and anxious world, Dimming the Day shows up as a soothing balm. Every word of this book has planted seeds for healing in my own weary heart, and I know it will do the same for others." –April Fiet, author of The Sacred Pulse: Holy Rhythms for Overwhelmed Souls
"In Dimming the Day, Grant invites us to view the world through eyes of wonder. It is as if a kind friend has offered to tuck us in for the night, guiding us into glorious sleep." –Shemaiah Gonzalez, writer