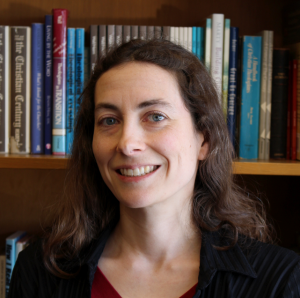 Course Title: "Writing as an Act of Faith" 
Course Description: The way we interpret texts matters for faith. It shapes the faith of the writer and, perhaps more importantly, the faith of the readers. Nobody demonstrates this phenomenon more clearly than Martin Luther and Søren Kierkegaard in their fascinating, troubling readings of Genesis 22, the binding of Isaac. The two thinkers, while producing vastly different readings of the Biblical text, share several strategies for interpretation. In this session, we will look at how two of those strategies—the collapse of time and creative embellishment of narrative—have the potential to express and transform faith. We will think together about how our own spiritual nonfiction writing might effectively utilize these strategies, as well as when it would be better to avoid them.
Elizabeth Palmer is the Books Editor at the Christian Century magazine. An ordained minister in the Evangelical Lutheran Church in America, she served as the Lutheran Campus Pastor at the University of Chicago for eight years and has also worked as a hospital chaplain. She is a 1997 graduate of St. Olaf College in Northfield, Minnesota, where she majored in chemistry, mathematics, and religion. She also holds a Ph.D. in theology from the University of Chicago Divinity School. Elizabeth lives with her family in Skokie, Illinois.
Articles at The Christian Century