by Emily Easton – Penguin Random House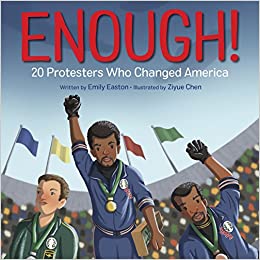 Learn more and purchase from:
Change takes courage. Introduce your young activist to America's most influential protesters in this lushly illustrated picture book. Stand beside contemporary groundbreakers like Colin Kaepernick and transgender teen Jazz Jennings, and march in the footsteps of historical revolutionaries such as Harriet Tubman and Dr. Martin Luther King Jr. This moving text opens with a foreword from a Parkland shooting survivor and is perfect for those not quite ready for Little Leaders and She Persisted.
America has been molded and shaped by those who have taken a stand and said they have had enough. In this dynamic picture book, stand alongside the nation's most iconic civil and human rights leaders, whose brave actions rewrote history.
Join Samuel Adams as he masterminds the Boston Tea Party, Ruby Bridges on her march to school, Colin Kaepernick as he takes a knee for Black lives, and the multitude of other American activists whose peaceful protests have ushered in lasting change.
With a foreword from a survivor of the Marjory Stoneman Douglas high school shooting, this succinct text paired with striking illustrations is a compelling read-together story for little activists who are just starting to find their voice.
Backmatter extends the text with short bios about each protester to provide additional context about their respective movement and the form of protest they used.