by Alexia Salvatierra, Peter Heltzel – IVP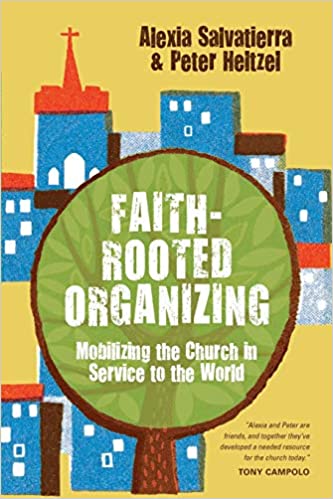 Learn more and purchase from:
With so many injustices, small and great, across the world and right at our doorstep, what are people of faith to do? Since the 1930s, organizing movements for social justice in the U.S. have largely been built on assumptions that are secular origin―such as reliance on self-interest and having a common enemy as a motivator for change. But what if Christians were to shape their organizing around the implications of the truth that God is real and Jesus is risen? Alexia Salvatierra has developed a model of social action that is rooted in the values and convictions born of faith. Together with theologian Peter Heltzel, this model of "faith-rooted organizing" offers a path to meaningful social change that takes seriously the command to love God and to love our neighbor as ourself.
"Faith-Rooted Organizing blends the voice of an evangelical-activist theologian in Heltzel with the homespun profundity of a seasoned pastor and campaign organizer in Salvatierra. The authors delight readers with complementary writing styles: Heltzel speaks through theological propositions, interpolated intermittently with jazz references and theological punch lines; Salvatierra communicates through proverbs, organizing anecdotes, poignant biblical passages, and narrative side notes. "The result is a well-argued and accessible text that should resonate from the seminary to the sanctuary."– Andrew Wilkes, Sojourners
"This isn't a book about food pantries, soup kitchens and clothing drives. Rather, the authors show how the call of the prophets is still among us and how the teachings of Jesus can impact the whole of society. . . . [H]elps us see the power of hospitality and the need for congregations to work in their communities toward hope, wholeness and justice."– Todd Outcalt, YouthWorker Journal
"Organizing is an old tradition, but for years there was a mindset that it is all about self-interest and manipulating power, whatever the collateral damage. Peter and Alexia bring us to a new/ancient place, social justice with sleeves rolled up, grounded in organizing for good as the deepest expression of faith. Faith-Rooted Organizing weaves Scripture with practice and the prophetic voice with practical steps, presenting organizing as a spiritual act of partnering with God in repairing the world."– David M. Elcott, Taub Professor of Practice in Public Service and Leadership, Robert F. Wagner School of Public Service, New York University
"Too much theology today is written in words rather than deeds. But God sent his Word as a doing verb, and Alexia Salvatierra and Peter Heltzel teach and show what it means to share in the doing."– Peter Ochs, Edgar Bronfman Professor of Modern Judaic Studies, University of Virginia
"Inspired by Gandhi, King, Chavez and the work of past and present-day faith-rooted organizers, Alexia Salvatierra and Peter Heltzel have taken their visions and written them down. Salvatierra illuminates the spiritual principles that guided the civil rights and farmworkers movements. Heltzel helps us understand how this work is not only about justice in this world, it is the work of the gospel itself. This book is a gift to the church and the world. Definitely required reading for any congregation that wants to put their faith into action in today's world."– Lisa Sharon Harper, director of mobilizing, Sojourners, and author of Evangelical Does Not Equal Republican . . . or Democrat and Left, Right and Christ: Evangelical Faith in Politics
"Faith-rooted organizing is big on faithfulness, hanging in there, building relationships, training leaders, changing social structures and asking what it means to follow Jesus in today's world. It thus combines the best aspects of resource mobilization theory with what is now ubiquitously called 'framing,' and in this superb book by Alexia Salvatierra and Peter Heltzel, two leading Christian organizers give us a compelling account of what works and what doesn't."– Gary Dorrien, author of Economy, Difference, Empire: Social Ethics for Social Justice
"On a cold February night some years ago I experienced a rite of passage in my understanding of mission. Two thousand followers of Jesus created a table in the midst of creation. They met with the mayor of New York City to negotiate issues like crime, drugs, jobs and affordable housing as they struggled to reroot the life and mission of their congregations in their communities. I saw the power and effectiveness of community organizing come alive. I saw the Nehemiah Project literally rebuild burned-out neighborhoods around our congregations with thousands of units of affordable housing. "The arts of community organizing have come a long way since the scuffling days of Saul Alinsky and the Back of the Yards organization in Chicago. For me, over the years, connecting with organizing networks has been life giving and game changing. The arts of listening, power analysis and leadership development have undergirded my ministry as parish pastor, bishop and now denominational executive. "In writing Faith-Rooted Organizing Alexia Salvatierra and Peter Heltzel have made an immense contribution to the maturing of the community-organizing tradition in relationship to the mission of the Christian gospel. They begin where people of faith live: in the biblical drama, their local faith communities, their daily walk with Jesus. This book makes organizing accessible to evangelical Christians, and provides renewal and deep grounding for all spiritual journeys. "For example, sometimes Christians encounter community organizing through the lens of power, and they struggle to see its resonance with Christian ethics. The chapter on 'serpent power' and 'dove power,' speaking of power from within the depths of the Christian narrative, is both realistic and hopeful. All through the book I got the sense of an attempt not to make organizing palatable to evangelical Christians but instead to help bring out the great gifts that Christians contribute to any effort to rebuild a just world. The perspective of 'the least of these' always keeps faith-rooted organizing rooted in the perspective of Jesus. "Faith-Rooted Organizing is steeped in real-life experience. Many stories make the concepts come alive. And the book is a love letter from Alexia and Peter to an emerging generation seeking to follow Jesus in lives that matter."– Stephen Paul Bouman, executive director, Congregational and Synodical Mission, Evangelical Lutheran Church in America
"A superb integration of biblical faith and community organizing. This book is both an excellent manual and a vast feast of delightful, empowering stories. A must-read for anyone interested in empowering people to work for justice."– Ronald J. Sider, founder of Evangelicals for Social Action
"Martin Buber said that the opposite of slavery is not freedom, but community. Such a beloved community is grounded in justice and radical hospitality. Now how do we engage the powers in the struggle for community? Many thanks to Alexia, Peter and InterVarsity Press for gifting the organizing community with this book."– Phillip Lawson, pastor emeritus, Easter Hill United Methodist Church
"It's tempting to look at all the problems in the world, throw our hands up at God and say, 'Why don't you do something?' When we ask that, we often hear God say back, 'I did something. I made you.' Throughout history, the movements that have changed the world for good have been divine conspiracies, holy collaborations between God and people. For some reason, God doesn't want to change the world without us. Sometimes we are waiting on God, and God is waiting on us. When we ask God to move a mountain, God might give us a shovel. In this book, Peter and Alexia remind us that faith has to have feet–the good news needs to become flesh. The gospel is not just about ideas, it's about action–Jesus does not just offer us a presentation of ideas but an invitation to join a movement. As you read it, keep your eyes open for ways you might be called to become a part of the change we all want to see in the world."– Shane Claiborne, activist and author, www.thesimpleway.org
"Alexia and Peter's timely book not only demystifies faith-rooted advocacy and activism but centers it squarely in deep theology, the nature of the local church and the call of Christian discipleship. This will serve as an important guide for everyone seeking to translate compassion and conviction into effective community organizing and servant justice."– Ken Wytsma, president of Kilns College and author of Pursuing Justice