​Written by Elizabeth F. Caldwell & Theodore Hiebert, Illustrated by Katie Yamasaki – Flyaway Books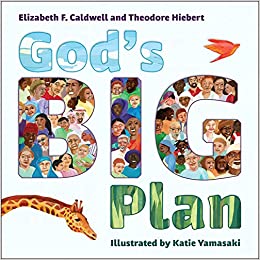 Purchase from:
The world is full of so many different things: animals, plants, foods, languages, people. But it might not have been that way if it weren't for God's big plan . . .
This vibrant picture book illuminates a new understanding of the story of Babel in Genesis, revealing God's plan for wonderful diversity throughout the world. God's Big Plan includes a note for parents and educators.
God's Big Plan is a Junior Library Guild Selection.