by Natalia Kohn Rivera, Noemi Vega Quiñones, Kristy Garza Robinson – IVP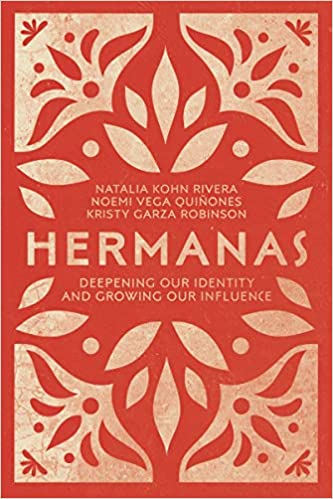 Learn more and purchase from:
2020 Foreword INDIES Book of the Year Award Finalists – Multicultural
God calls Latinas to lives of influence. He created his Latina daughters to partner with him, live into the incredible plans he has for each of us, and walk in his grace and strength to help change this world. But many of us have heard cultural messages that make us doubt our adequacy. We have not seen many Latina women in positions of leadership, and we need more mentors and role models. Natalia Kohn, Noemi Vega Quiñones, and Kristy Garza Robinson share their own journeys as Latinas and leaders. They find mentorship in twelve inspirational women of the Bible including Esther, Rahab, Mary, and Lydia, who navigated challenges of brokenness and suffering, being bicultural, and crossing borders. As we deepen our spiritual and ethnic identities, we grow in intimacy with God and others and become better equipped to influence others for the kingdom. The insights here will help any who seek to empower Latinas in leadership. You are not alone on this journey. Join your sisters and partner with our heavenly Father as you become the Latina leader God has called you to be.
"Noemi, Kristy, and Natalia―mujeres poderosas―have woven together a beautiful tapestry of brave women in the Bible with their own leadership, faith, and identity journeys as Latinas in their book Hermanas. They do it without ignoring or compromising the important ethical, social, and spiritual concerns affecting Latinas today. They are profoundly honest with their own stories, not for the purpose of being overly sentimental but to illuminate the faithfulness of a loving God who fills his people with audacity, long-suffering, loyalty, wisdom, and partnership. As God was at work in the lives of hermanas like Ruth, Mary, Deborah, Esther, Rahab, and Hannah to fulfill his purposes, his unchanging nature continues to breathe vision, hope, and resiliency in Latina hermanas today. If you want to gain biblical insight from strong women in the Bible, grow in your understanding of the Latina experience in America, and thrive as a courageous leader, this book certainly will help you get there."– Orlando Crespo, national director of InterVarsity Latino Fellowship, author of Being Latino in Christ: Finding Wholeness in Your Ethnic Identity
"Hermanas is a beautiful story tapestry told from the perspective of Latina Christ-followers. As a Latina who loves Christ, I was immediately drawn to this book that weaves Scripture into the faith journeys of the authors. I cannot wait to share this book with my friends!"– Ava Steaffens, chief executive officer, Christian Community Development Association
"The book Hermanas provides words to feelings and unjust experiences that have been normative to our sisters in Christ for many years. The authors take us on a journey through the power of story with a blend of rich theology and encapsulate the struggle and the beauty of being a Latina in Christ."– Noel Castellanos, president, Christian Community Development Association
"In this exceptional, creative reflection on the Scriptures, Hermanas gives us as readers a more intimate and accurate look at these women in Scripture. Our theology is shaped by our social and cultural location which makes it a gift to have these exceptional teachers bring solid biblical exegesis with a nuanced cultural hermeneutic. They invite us to journey with these sisters in Scripture as they understood their identity and utilized their influence to make an impact. It is a gift to anyone teaching and preaching from the Scriptures to have this in their theological library."– Sandra Maria Van Opstal, author of The Next Worship
"Hermanas is a precious and beautiful resource for discipleship. The young Latinas I have mentored need the nourishing, affirming, strengthening, and inspiration that this book offers. I recommend it de todo corazon."– Alexia Salvatierra, affiliate professor, Centro Latino, Fuller Theological Seminary
"Hermanas is enjoyable reading because it is informative about the biblical texts presented. The authors explore issues of identity in very fresh ways that go beyond essentialist constructions of identity, and they use Scripture for the purposes of mentoring. What an excellent way to be guided by the Spirit―it is modeled for us in these writings. This book is provocative reading that will edify your life, and it is a welcomed addition to Latina Evangelica writing. I highly recommend it."– Elizabeth Conde-Frazier, coordinator of relations, Theological Institutions for the Association for Hispanic Theological Education
"The church has long ignored, if not silenced, voices of the likes of Rivera, Robinson, and Vega Quiñones and suffered for it. Clear out time and space to read this book as the authors generously unpack their personal stories and Scripture with wisdom, insight, and a much-needed challenge and invitation to consider how Christ-filled leadership impacts individuals and their communities."– Kathy Khang, speaker, author of Raise Your Voice
"A soul-nourishing and timely balm to the many social identity and faith crises in our country today! I am so grateful for the wisdom and thoughtfulness these three uniquely different but equally social justice driven and Jesus-committed women of Hermanas bring to the table. As a Latina faith leader, I am overjoyed to have such a wonderful resource in my repertoire! If you are struggling with understanding the intersections of social identity, womanhood, and faith in general, or if you are struggling with your own chingona-ness and faith, you are in good hands."– Alma L. Zaragoza-Petty, cohost of The Red Couch Podcast, writer, speaker, educator, and mentor
"By embracing their identity as Latinas and Evangélicas, the authors explore their own stories in light of the stories of key biblical women, in a warm but powerful way. The result is a rich tapestry where love, courage, truth, wisdom, affirmation, and sisterhood are weaved together in order to invite Latinas, and the general reader as well, to be brave and strong as they journey through life and serve as leaders. This book is a much-welcomed addition to the emerging Christian literature from a Latina Evangélica perspective."– Nora O. Lozano, professor of theological studies, Baptist University of the Américas, executive director, Christian Latina Leadership Institute in San Antonio, Texas
"Gracias hermanas for this powerful and much-needed contribution! Reading the stories of women in the Bible through a fresh lens which reflects the richness and multiplicity of the lived experience of Latina women gives these well-known stories a unique hue and depth by which to connect with Scripture, God, and one another. In echoing with the Latina experience, this collaborative book brings intergenerational voices alongside one another to share their stories as one. Latina women will find here rich treasures by which to become part of the story as they reflect on their own personal leadership journeys and ask themselves: Where is the Holy Spirit guiding me to be of influence and impact for God's purposes in my community? It is for such a time as this that we are called―even from the margins―with one voice into action! ¡Levantémonos hermanas!"– Elizabeth Tamez Méndez, executive director, New Generation3