by Frank A. Thomas – Abingdon Press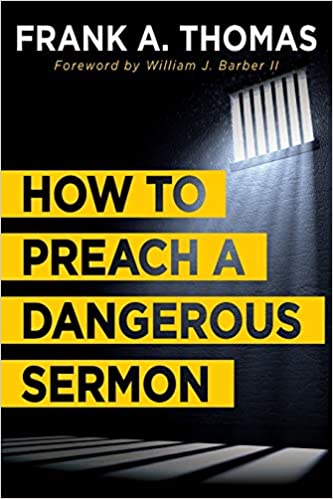 Learn more and purchase from:
Learn to use four characteristics of "preaching with moral imagination" to proclaim freedom for all. The author describes the four characteristics using examples like Robert F. Kennedy, Dr. Martin Luther King, Jr., Prathia Hall, and the Moral Monday Movement, along with musicians and other artists of today. Moral imagination helps the hearer to see what they cannot see, to hear what they cannot hear–to inhabit the lives of others, so that they can embody Christ and true freedom for those others.

This book equips and empowers preachers to transcend their basic skills and techniques, so that their proclamation of the Word causes actual turnaround in the hearts and lives of their hearers, and in their communities.
"Frank Thomas has written a passionate summons: amid the current destructive chaos of our society there is an urgent need for moral imagination. Such imagination is the antithesis of "diabolic" and "idolatrous" imagination that is all to the fore in our public discourse and practice. Thomas fleshes out "moral imagination" with close reflection on the practice of Robert F. Kennedy and Martin Luther King. Before he finishes Thomas shows how the urgency of "moral imagination" belongs peculiarly to the work of the preacher. This book is a welcome call for gospel-grounded courage and truth about the neighbor issued in a way that refuses the self-serving fakery that dominates our public life." –Walter Brueggemann, Columbia Theological Seminary
"Timely and prophetic, How to Preach a Dangerous Sermon presents a homiletic essential for our churches today. Thomas insists that it is up to the preacher to recapture and reclaim the moral imagination of our nation so that the Gospel's message of freedom is true for all people. With attention to specific figures whose witness models the qualities and characteristics of moral imagination, Thomas inspires the preacher toward powerful proclamation that both challenges and critiques any speech that subjugates or subordinates. How to Preach a Dangerous Sermon is must read for preachers to recover and reimagine the leadership role of the church for the sake of justice for all." –Karoline M. Lewis, Associate Professor of Biblical Preaching and the Marbury E. Anderson Chair of Biblical Preaching, Luther Seminary; author of She: Five Keys to Unlock the Power of Women in Ministry.
"In this lucid and compelling book, Frank Thomas plumbs the depths of American moral rhetoric for insights that will help preachers. How to Preach a Dangerous Sermon provides new and dramatic ways in which the moral imagination in a democratic society can be nurtured by visionary, empathic, wise, and artistic preachers."–John S. McClure, Charles G. Finney Professor of Preaching and Worship, Vanderbilt Divinity School"Warning: Preachers, if you are comfortable with the status quo of white privilege, patriarchy, hetero-normativity, and classism, do not read this book. If you are comfortable with sermon series that reduce the gospel to self-help acronyms, don't read this book. But if you have the courage to look honestly at our landscape and bring the moral imagination of the Christian tradition to bear on it, open these pages and your sermons may never be the same again. But then again neither will the church–or the world–be the same anymore, if enough of us follow Thomas's advice." –O. Wesley Allen, Jr., Lois Craddock Perkins Professor of Homiletics, Perkins School of Theology, Southern Methodist University