by Michael T. McRay – Herald Press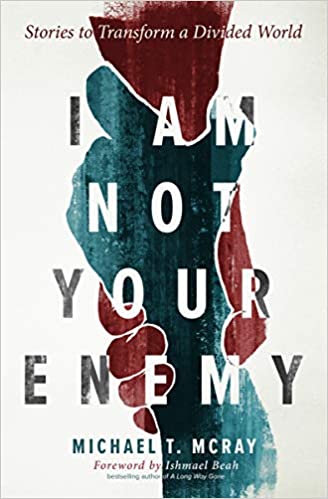 Learn more and purchase here:
**WINNER** Best Book Awards by American Book Fest, category of Social Change
**FINALIST** Best Book Awards by American Book Fest, category of Narrative NonfictionAre you my enemy? Am I yours?

Violent stories surround us. Brutal beginnings, horror-filled middles, despair-inducing endings. We need better stories: stories forged in the furnace of conflict, narratives that kindle compassion and ignite hope. In the pages of I Am Not Your Enemy, writer Michael T. McRay visits divided regions of the world and interviews activists, peacebuilders, former combatants, and clergy members about their personal stories of conflict, justice, and reconciliation. In Israel and Palestine, Northern Ireland, and South Africa, he hears from grieving parents who comfort each other across enemy lines, a woman who meets her father's killer, and a young man who uses theater to counter the oppression of his people.
In a time of heightened alienation and fear, McRay offers true, sacred stories of reconciliation and justice, asking what they can teach us about our own divided states. Must violence be met with violence? Is my belonging complete only when I take away yours? Will more guns, more walls, more weapons keep us safe?
We need stories that cultivate empathy and tell the truth. We need stories to save us from our fear.
"I Am Not Your Enemy is a timely illustration of the human spirit craving liberation, justice, dignity, and equality. Michael McRay brings to life the reasons that dialogue should be used as a tool to drive tremendous change to improve the world and takes us on an unforgettable journey through the Holy Land, Ireland, and South Africa."
–Samar Ali, founding president of Millions of Conversations
"As a Black womanist peacebuilder advancing reconciliation, I spend time confronting, deconstructing, and reconstructing definitions of reconciliation all the time. What is probably one of the most powerful tenets of the Christian faith has been watered down and made practically useless in the work of liberation because our dominant understanding of reconciliation is founded on faulty conclusions like 'racism is a feeling.' Whole movements for supposed reconciliation have been pursued on the premise that the breach in human relationships can be repaired in ways that do not require personal transformation or a commitment to transform the world. What Michael McRay offers us in I Am Not Your Enemy is the collective testimony of people across the world whose stories rebuke this cheap reconciliation and challenge us to aim for more.
Reading I Am Not Your Enemy, I hear the yearning for hope grounded in truth. 'If we ever want to march out of the hell of our divisions, we must tell the truth about ourselves, ' McRay writes. This truth-telling makes room for us to see ourselves–and to see beyond ourselves. Truth-telling and hopefulness work together in these stories, igniting power in the least likely people to stretch for a world they haven't seen but know is possible."–Emma Jordan-Simpson, executive director of Fellowship of Reconciliation USA
"Peace is a troubling tension: reconciliation is nothing without justice; reparations call for action; and things have happened that can never be undone. In I Am Not Your Enemy, Michael McRay amplifies stories of people trying to live truthfully in the aftermath of horror. These are not neutral stories; they are stories of opinions, hopes, needs, demands, and anxieties. To read these stories is to be brought into the complication of enmity, restoration, and true living. McRay troubles himself too: he curates stories from international zones of suffering, and then makes himself suffer as he thinks of his own zone. In this, this book is a muscle, an ache, a practice of asking the troubling questions at the heart of peace."
–Pádraig Ó Tuama, poet, theologian, and author of In the Shelter
"A good story opens windows. I Am Not Your Enemy opens quite a few. This book invites us to peer into the challenges of social healing and reconciliation in tough places and tough times. Michael McRay does not tread lightly with the stories of deep division, violence, and loss he shares, precisely because the wisdom of these stories asks us to dig beyond quick answers and rote formulas. This is the gift of a brilliant book and a story well told. It invokes a longer, deeper look. Perhaps the most important window opened in these stories emerges with the courage to see ourselves in the story. To read this book is to arrive quickly at the realization that these stories are about us, about the places we live, and the neighbors we have. They are about how we will choose to show up in the midst of fear and division, espousing the fundamental belief that we are called to love our enemies. A more timely set of stories can hardly be imagined."–John Paul Lederach, international peacebuilder and author of The Moral Imagination
"Early in this warm, inviting, and even important book, Michael McRay says he did not write to make a living off other people's stories. This makes the book already a rare thing–the author respects and shares in the suffering of those about which the stories are told. But for the reader, he weaves a framework that provides a space in which we might find more life for ourselves. McRay is a truthful, caring, and inspirational guide to rethinking the stories that imprison us and reimagining ones that could set us free."–Gareth Higgins, founder of The Porch Magazine and Movies & Meaning and cofounder of the Wild Goose Festival and New Story Festival
"Everywhere we turn these days we are urged to see enemies and make enemies, and in so doing we can become trapped in rage, terror, or despair. Michael McRay walks directly into areas where fierce enmities have been nurtured for decades or even centuries and shares stories of healing, reconciliation, and hope. His work can help you see your enemies in a humane new light and learn how to resist the push to create enemies in the first place. These stories of rehumanization, justice, and reconciliation are perfect for our times."–Karla McLaren, author of The Art of Empathy and The Language of Emotions
"In our era of fake news, hate speech, xenophobia, and racism, Michael McRay offers a compelling way back to dignity and self-respect–by choosing to listen carefully to the stories of so-called enemies instead of showering them with fear and prejudice. Through the process of storytelling, properly conducted, McRay shows it is likely that our enemies may be transformed into partners for a better world. This is a book that should be taken very seriously indeed."–Fanie DuToit, senior advisor of the Institute for Justice and Reconciliation in Cape Town, South Africa
"Michael McRay finds hope where most people have given up long ago. He reminds us that there is love and humanity everywhere, even in the most unlikely places. We just have to see it. As a peacebuilder and citizen of the deeply divided country of Bosnia-Herzegovina, I know firsthand the necessity of McRay's stories and wisdom. There are ways out of the old logic of enemies. This book, at its best, shows us how."–Zana Marjanovic, actress, filmmaker, and former member of the Parliament of the Federation of Bosnia and Herzegovina
"Michael McRay gets poignantly to the heart of the matter. This is a book about the varied faces of grief, love, and reconciliation. It is incisive, smart, and acutely necessary for our times."–Colum McCann, author of Apeirogon and Let the Great World Spin and winner of the National Book Award
"Michael McRay has written a stunning book of compelling stories from divided societies, as he endows each with a powerful message of hope. McRay finds meaning within chaos. This book can help all of us get our bearings if we are feeling lost or overwhelmed by the work we need to do in the world. His powerful writing allows us the privilege of feeling compassion instead of fear, inspiration in the midst of despair, and harmony in the midst of division. Thank you, Michael, for writing this book for all the seekers of justice who can use your stories like a map of love."–Becca Stevens, founder of Thistle Farms and author of Love Heals