by Kerascoët – Penguin Random House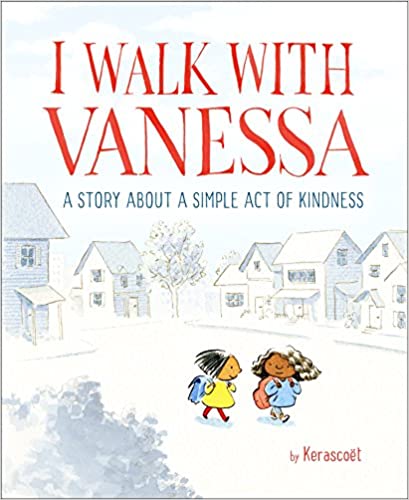 Learn more and purchase from:
Named by Parents Magazine as the "Best Book that Champions Kindness"!
This simple yet powerful picture book–from a New York Times bestselling husband-and-wife team–tells the story of one girl who inspires a community to stand up to bullying. Inspired by real events, I Walk with Vanessa explores the feelings of helplessness and anger that arise in the wake of seeing a classmate treated badly, and shows how a single act of kindness can lead to an entire community joining in to help. By choosing only pictures to tell their story, the creators underscore the idea that someone can be an ally without having to say a word. With themes of acceptance, kindness, and strength in numbers, this timeless and profound feel-good story will resonate with readers young and old.
A New York Public Library Best Book of the Year
"This beautifully illustrated story shows young readers how to become caring and supportive upstanders. Love it!" –Trudy Ludwig, bestselling author of The Invisible Boy
"A wonderfully illustrated, hopeful book that can help caregivers tackle an emotionally fraught subject with even very young children. "—KirkusReviews, starred review
"A simple, beautiful story with an empowering lesson and call to action." —School Library Journal, starred review
"The wordless pages and small, toylike figures make this a good choice for young children who can work out for themselves what has happened, what Vanessa's new friend does, and why it works." —Publishers Weekly, starred review