by Yolanda Pierce – Broadleaf Books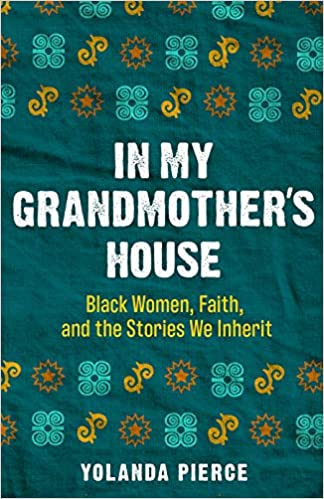 Learn more and purchase here:
What if the most steadfast faith you'll ever encounter comes from a Black grandmother?
The church mothers who raised Yolanda Pierce, dean of Howard University School of Divinity, were busily focused on her survival. In a world hostile to Black women's bodies and spirits, they had to be. Born on a former cotton plantation and having fled the terrors of the South, Pierce's grandmother raised her in the faith inherited from those who were enslaved. Now, in the pages of In My Grandmother's House, Pierce reckons with that tradition, building an everyday womanist theology rooted in liberating scriptures, experiences in the Black church, and truths from Black women's lives. Pierce tells stories that center the experiences of those living on the underside of history, teasing out the tensions of race, spirituality, trauma, freedom, resistance, and memory.
A grandmother's theology carries wisdom strong enough for future generations. The Divine has been showing up at the kitchen tables of Black women for a long time. It's time to get to know that God.
"In this gripping and authentic text, Dr. Yolanda Pierce teaches us to listen with radical attentiveness, uncovering the analytical brilliance, courageous sacrifice, and definitive theology of her grandmother. As she excavates the intergenerational recipes and patterns out of which her own life is created, she gives the reader access to deep wells of faith and wisdom. This text is a love letter to Black grandmothers and a show way quilt for young people. It is essential reading for all who hear the whisper of the still, small voice and feel unsure of how to respond." –Melissa Harris-Perry, journalist, speaker, and professor at Wake Forest University
"Within the pages of In My Grandmother's House, Dr. Yolanda Pierce brings to the forefront the titans of faith formation, the holders of theological wisdom, the guides who rarely receive credit from the academy for having crafted a faith that endures: Black grandmothers. By giving language to the ways Black women have long helped us make sense of the Divine, Dr. Pierce offers us a window into the sacred lives of Black women, at once centering ourselves, our histories, and our God." –Austin Channing Brown, New York Times bestselling author of I'm Still Here
"From the opening sentence to the closing paragraph, Dr. Yolanda Pierce provides a spiritual meal we did not know we desperately needed as a community of joyous believers and wounded family members who occupy the space we call the Black church. Dr. Pierce becomes this generation's spiritual griot; her powerful storytelling challenges, inspires, and demands we hold the brokenness and the blessedness of the space we call the Black church in both hands. She pushes us to refuse to release the sweet and sour flavors mixed in the beautiful pot of our Black spirituality framed by the womanist power of our grandmothers. Thank you, Dr. Pierce, for being a brilliant, radical, and loving truth-teller." –Rev. Dr. Otis Moss III, author, activist, and senior pastor of Trinity United Church of Christ
"I used to think talking about Black life, or even Black faith, was about convincing white people to be better. But that's far too limiting. It is about giving us words, setting our bodies free, living in ways that allow us to feel seen, inspired, protected. It is about deep love, a deep faith in the possibility of better for ourselves and our country. Dr. Yolanda Pierce does just that: she welcomes us into the sacred space between Black bodies, God, kitchens, living rooms, sanctuaries, cities, and classrooms. . . . This is a book that is both brilliantly told and beautifully written–a book you will want to read, read again, talk about, sing about, cry with, hold onto, and be held by." –Danté Stewart, writer, speaker, and activist
"Dr. Yolanda Pierce gives us the gift of inviting us into the faith of her grandmother, and so many others who have gone before. For those of us born entrenched in white patriarchal Christianity, this gift is profound. In her poetic, theologically rich reflections on growing up in the Black church, Dr. Pierce invites our gaze to honor the women who have upheld a profound yet overlooked aspect of American Christianity. This is a wonderful introduction to womanist theology that is life-giving and nurturing even as it invites constant reflection on the part of the reader." –D. L. Mayfield, author of The Myth of the American Dream and Assimilate or Go Home
"In My Grandmother's House is profoundly hopeful, deeply challenging, and always surprising in the best sense. Through the stories of her grandmother and the older Black women in the church, Dr. Yolanda Pierce offers a powerful vision of a God who loves Black women and is deeply invested in their wholeness and freedom. This work of womanist theology is for everyone because it offers a theological lens for the liberation work Black women have always engaged in–it calls us to take Jesus out of the box of tradition so we can see the subversive work of God in the world. After reading it, I wanted to live in her grandmother's house and glean her wisdom and love for God. In My Grandmother's House is a gift that will inspire and change you–it's a must-read!" –Karen González, author of The God Who Sees
"Dr. Pierce speaks to all of our hearts by testifying of the goodness of the Black church through her grandmother theology and stories of Black women of faith. This intellectual and emotional masterpiece is just the healing balm we need in a world deprived of the unconditional love and wisdom of Black grandmothers." –Khristi Lauren Adams, author of Parable of the Brown Girl?