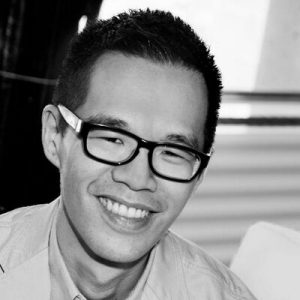 Jeff Chu
is a Princeton, New Jersey-based freelance reporter and writer as well as a seminarian at Princeton Theological Seminary. Most recently, I was a contributing editor at
Modern Farmer
 (R.I.P., print edition). I was also on staff at 
Fast Company
 for almost eight years. During that time, I edited, wrote, and reported on lots of different things. The ones I liked? International affairs (I led our award-winning coverage of China), fashion and design, the intersection of business and social justice. As far as I know, my stories have only gotten two people fired (I was not one of the two).
My reporting and writing have also appeared in a bunch of other places—The New York Times Magazine, Travel+Leisure, the Wall Street Journal, the Washington Post. When big publishers were still starting magazines and pouring millions of dollars into them, I was an editor on the launch team of the now-defunct Conde Nast Portfolio. And before that, I spent seven years at Time magazine, where I really received my journalistic education. I was a London-based web producer and staff writer—my first cover story was on Britney Spears and her Swedish songwriter, Max Martin—and then a New York-based writer and editor.
I'm from California, and my loyalty to the Bay Area is such that I've sometimes only half-jokingly said that I would be in favor of Northern California seceding so that Los Angeles isn't a part of us anymore. Sometimes, people ask, "But where are you really from?" I was born in California! And yes, racists and xenophobes, I know what you're asking, and the answer is Hong Kong! My family is from Hong Kong!
I feel most at home reporting on religion (though the book was my first—and will probably be my only—major project on faith and sexuality, because you should see the emails people send you when you write about this stuff!). My grandfather was a Baptist preacher, my uncle still is one, and my family is full of Sunday-school teachers, church pianists and organists, deacons, and the like. My high school was an allegedly nondenominational Christian one, though its roots were in the Christian Reformed tradition and we had some zany Bible classes. During my childhood, my family attended Baptist and PCA churches. Then, in college, I did the nondenominational-evangelical thing. In grad school and afterward, I went Anglican (I was living in England, so it seemed like the locally appropriate thing to do) and then stopped doing church altogether. Today, I call the Reformed Church in America (RCA) home. I am a candidate for ordination in the RCA's Rockland-Westchester Classis, and I divide my church time between Old First Reformed Church in Brooklyn and the Reformed Church of Bronxville in Bronxville, New York. Some days, I believe in God; other days, I want to believe in God. 
I went to high school in Miami, at Westminster Christian, where I sat behind Alex Rodriguez in Mr. Warner's world history class. A graduate of Princeton and the London School of Economics, I'm a writer today largely because of two people: Carmen Gonzalez, my second- and third-grade teacher at Black Pine Circle Day School in Berkeley, California, who first taught me about storytelling, and Charlotte Grimes, whose one-semester journalism seminar at Princeton—the only journalism course I ever took—taught me that I was not a terrible reporter and might even someday be a good one. I was a 2004 Phillips Foundation journalism fellow (my project examined complaint in American history), a 2011-2012 French-American Foundation Young Leader, and a 2015 International Reporting Project fellow.
You can find a few things I've written here: https://medium.com/@jeffchu
Website: http://byjeffchu.com/
Twitter: @jeffchu
Facebook: https://www.facebook.com/byjeffchu
LinkedIn: https://www.linkedin.com/in/byjeffchu