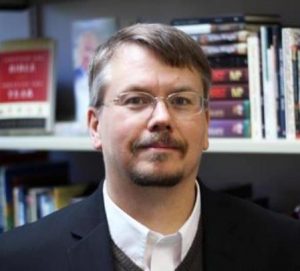 Jeff Crosby is Publisher of InterVaristy Press and Vice President of InterVarsity Christian Fellowship/USA. Jeff was most recently Associate Publisher and Director of sales and marketing for IVP.
Crosby got his start in the Christian book industry as the owner, with his wife Cindy, of a Logos bookstore in Bloomington, Indiana from 1983 to 1993. He went on to become the executive director of the Association of Logos Bookstores from 1993 to 1996 and was in executive sales and marketing roles with the Christian divisions of Ingram Book Company for two years before he started at IVP.
As IVP's director of sales and marketing Crosby managed sales to domestic retail accounts and the international distribution partnerships in England, Australia, New Zealand, Canada, South Africa and other countries. He was instrumental in launching the direct marketing program for IVP Academic's award-winning Ancient Christian Commentary on Scripture reference series, and was a primary drafter of IVP's digital publishing strategy in 2008.
Throughout his career Crosby has led numerous workshops and spoken at conferences on the topics of publishing, marketing and management. In both 2015 and again this year, he has served the Evangelical Christian Publishers Association (ECPA) as the content creation leader for the sessions of its ECPA PUBu events.
LinkedIn: https://www.linkedin.com/in/jeff-crosby-29b76252
Facebook: https://www.facebook.com/jeff.crosby.3766
Twitter: @JeffCrosby2