by Shane Claiborne, Chris Haw – Zondervan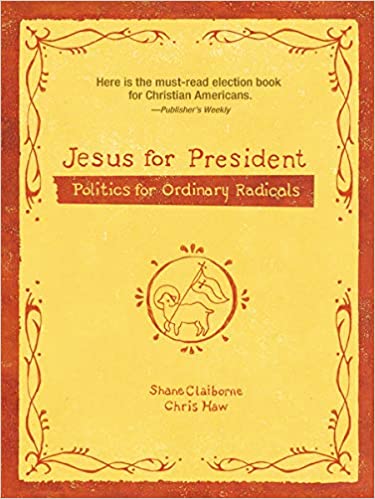 Learn more and purchase from:
Jesus for President is a radical manifesto to awaken the Christian political imagination, reminding us that our ultimate hope lies not in partisan political options but in Jesus and the incarnation of the peculiar politic of the church as a people "set apart" from this world. In what can be termed lyrical theology, Jesus for President poetically weaves together words and images to sing (rather than dictate) its message. It is a collaboration of Shane Claiborne's writing and stories, Chris Haw's reflections and research, and Chico Fajardo-Heflin's art and design. Drawing upon the work of biblical theologians, the lessons of church history, and the examples of modern-day saints and ordinary radicals, Jesus for President stirs the imagination of what the Church could look like if it placed its faith in Jesus instead of Caesar. A fresh look at Christianity and empire, Jesus for President transcends questions of "Should I vote or not?" and "Which candidate?" by thinking creatively about the fundamental issues of faith and allegiance. It's written for those who seek to follow Jesus, rediscover the spirit of the early church, and incarnate the kingdom of God.
'Here is the must-read election-year book for Christian Americans. What should Christians do when allegiances to the state clash with personal faith? Haw and Claiborne (The Irresistible Revolution) slice through politics as usual and well past the superficial layers of the culture wars with their lucid exploration of how Christians can and should relate to presidents and kings, empire and government. Their entertaining yet provocative tour of the Bible's social and economic order makes even the most abstruse Levitical laws come alive for our era. They also provide a valuable political context for Christ's life, reminding readers that Jesus did not preach the need to put God back into government — he urged his followers to live by a different set of rules altogether, to hold themselves apart as peculiar people. The compelling writing is enhanced by a lavish, eye-popping layout. The pages are a riot of textured callouts, colors, photos, and fonts — the perfect packaging for a message that must compete in a world of sound bites. With this second book, Claiborne emerges as an affable, intelligent, humorous prophet of his generation, calling people out of business-as-usual in a corrupt world and back to the radically different social order of the biblical God.' — Publishers Weekly Starred Review