by Guthrie Graves-Fitzsimmons – Broadleaf Books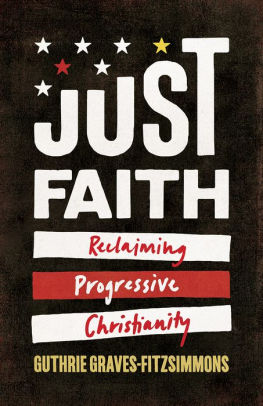 Learn more and purchase from:
According to new research from the Public Religion Research Institute, there are over 35 million consistently progressive Christians in the United States. Majorities of American Christians support reproductive justice and LGBTQ+ rights. Yet they're erased from our public narrative–only mentioned as outliers to the fundamentalist norm.
In Just Faith, progressive Christian activist and writer Guthrie Graves-Fitzsimmons explains how a strong religious left has accompanied every major progressive advance in our society, and he resurrects the long but forgotten history of progressive Christianity in the United States that can and must link arms with progressive Muslims and Jews to make the moral case for pluralism, human dignity, and the common good. Graves-Fitzsimmons provides a blueprint for this type of resurrection based on his advocacy work at the intersection of religion and American politics. Graves-Fitzsimmons creates a rallying cry for a bold progressive Christianity that unapologetically fights for its values to impact the biggest political battles of our time–from immigration and economic fairness to LGBTQ+ rights and abortion rights–so that progressive Christians will stop lowering their voices when they identify as Christians. "What kind of Christian are you?" they'll be asked. And they'll even be understood when they reply with a smile, "The good kind."
"I am grateful that Guthrie Graves-Fitzsimmons refuses to be silent about the 35 million progressive Christians in America whose faith and practice are largely ignored by the media. Progressive Christianity in America is a sleeping giant, and Graves-Fitzsimmons is our press secretary. Consider yourselves warned." —- Rev. Nadia Bolz-Weber, New York Times Bestselling Author of Shameless, Accidental Saints, and Pastrix
"Just Faith: Reclaiming Progressive Christianity is a rallying cry for progressive Christians to invoke the actions of Jesus to activate, organize, and speak up. There is not a more urgent moment than now for us all to unite as beacons of love and justice." —- Deesha Dyer, White House Social Secretary during the Obama administration
"Guthrie Graves-Fitzsimmons is the nation's leading expert on progressive Christianity, as well as one of the movement's greatest champions. This book is bound to help you reclaim your voice to bring liberation to the poor and oppressed." —- Rev. Jennifer Butler, CEO, Faith in Public Life
"Progressives of all religious identities can find hope in a revitalized Christian left. Just Faith offers a helpful vision for people of all faiths who care about social and economic justice." —- Wajahat Ali, New York Times contributing op-ed writer and CNN contributor
"With the landscape of faith in America so sharply divided along sociopolitical lines, Just Faith casts encouraging light on how progressive voices can and must have impact both now and going forward." —- Rev. Derrick Harkins, National Director of Interfaith Outreach for the Democratic National Committee
"Just Faith encourages followers of Jesus not just to remember our bold tradition of progressive activism, but to carry the movement forward. I hope you will join me, Guthrie Graves-Fitzsimmons, and the millions of progressive Christians in this prophetic work of social and economic justice. This book will be one of our guides." —- Rev. Dr. Jacqueline Lewis, senior minister, Middle Collegiate Church
"In Just Faith: Reclaiming Progressive Christianity, Guthrie Graves-Fitzsimmons reminds us who consider ourselves progressive Christians that ours is a tradition grounded solidly in the life and teachings of Jesus Christ. While contemporary narratives focus on the voices and political clout of conservative Christians, Graves-Fitzsimmons helps us remember how progressive Christianity has shaped US history and encourages us to boldly reclaim our place in the public square. This is a timely and most-needed book!" —- Bishop Karen Oliveto, Mountain Sky Episcopal Area, United Methodist Church
"Many of us have been in on a secret for years: progressive Christianity is alive and well in America. Just Faith lets readers in on the secret and supplies context for the revival of faith-based activism in America. In Just Faith Graves-Fitzsimmons assures us that none of us are alone as progressives within our denominations. Bold, prayerful, and full of knowledge, this is a book to help us find the way." —- Kaya Oakes, journalist and author
"In an era when the predominant narrative is that progressive faith is dying, Just Faith presents a powerful counter-argument that the future of progressive Christianity is increasingly bright." —- Rev. Brandan Robertson, lead pastor of Missiongathering Christian Church and author of True Inclusion: Creating Communities of Radical Embrace