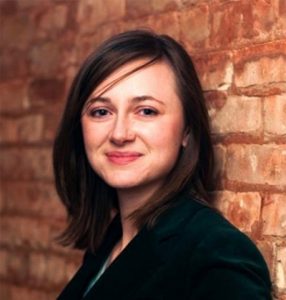 Katelyn Beaty is, among other things, acquisitions editor at Brazos Press.
"I'm a Midwest native, an oldest child, and an INFJ / Enneagram 3w4. But the most important thing you should know is that I love words and believe they can change the world.
I first learned this as an undergrad at Calvin College, where I edited the student newspaper and genuinely looked forward to writing papers. After studying theology at Oxford University, I landed my first job at Christianity Today magazine in the suburbs of Chicago. I would go on to launch a women's website (Her.meneutics) and become the magazine's youngest and first female managing editor.
Lest you think it's all been upward and onward, at age 27 I went through a major life event that shook my identity. So naturally, I decided to write a book about work, vocation, and identity, which came out in 2016 from Simon & Schuster. I speak regularly on work and vocation, writing, culture, and politics.
I have written for The New Yorker, The Washington Post, The Atlantic, and The New York Times on light topics such as politics, gender, and theology, and have commented on faith and culture for CNN, ABC, NPR, Associated Press, Religion News Service, and the Canadian Broadcasting Corporation.
When I'm not doing all the things with the words, I enjoy spending time exploring Brooklyn, reading, karaoke, tweeting snarky observations, international travel, and acquiring books for Brazos Press. I'd love to hear from you!"
LinkedIn: https://www.linkedin.com/in/katelyn-beaty-0b70558
Twitter: @KatelynBeaty
Facebook: https://www.facebook.com/katelyn.beaty.3