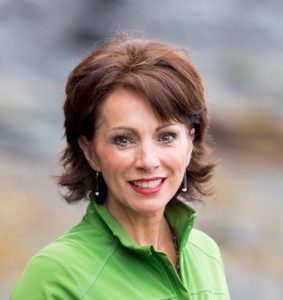 Leslie Leyland Fields is the author/editor of ten books. Her latest book, Crossing the Waters, won Christianity Today's 2017 Book of the Year for Christian Living.  Her previous books include Forgiving Our Fathers and Mothers:Finding Freedom from Hate and Hurt, The Spirit of Food: 34 Writers on Feasting and Fasting Toward God, Hooked! True Stories of Obsession, Death and Love from Alaska's Commercial Fishing Men and Women, Parenting is Your Highest Calling…and Eight Other Myths, Surviving the Island of Grace, Surprise Child: Finding Hope in Unexpected Pregnancy, Out on the Deep Blue, The Entangling Net: Alaska's Commercial Fishing Women Tell Their Lives, and The Water Under Fish (poetry). Her books have been translated into Chinese, French, Polish, Ukainian, Slovak, Korean and German.
She has won a number of Evangelical Press awards for her articles, which have appeared in The Atlantic Monthly, Orion, Beliefnet,  Image: Art, Faith, Mystery, Books and Culture, Best Essays Northwest, Christianity Today, It's a Girl: Women Writers on Raising Daughters, On Nature: Great Writers on the Great Outdoors, A Mile in Her Boots: Women Who Work in the Wild, America and the Sea: A Maritime History, and many others.
Leslie loves to share her passion for all thing Art and Faith. She speaks and teaches around the country and internationally in universities, churches, conferences and writing workshops. She taught creative nonfiction in Seattle Pacific University's Master of Fine Arts program for six years. She is the founder of The Harvester Island Wilderness Workshop, set on her island in Alaska that attracts writers nationally and internationally. Her guest writers have included Bret Lott, Luci Shaw, Phillip Yancey, Jeanne Murray Walker and others.
Website: http://www.leslieleylandfields.com/
Facebook: https://www.facebook.com/leslieleylandfields/
Twitter: @leslielfields