by Glenys Nellist – Beaming Books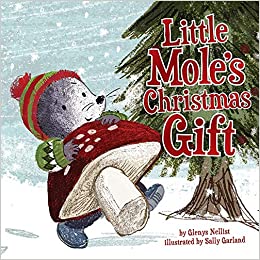 Learn more and purchase from:
Bestselling author Glenys Nellist tells a Christmas tale of generosity and kindness.
It was going to be the best Christmas ever because Little Mole had found the perfect gift for Mama: the biggest, most beautiful mushroom he had ever seen. But on his way home, Little Mole encounters other woodland friends in need. Though it pains him to do so, Little Mole shares pieces of his mushroom with each friend he meets until there's not much left. Disappointed and anxious about what this means for Christmas, Little Mole wraps what's left of the mushroom. He fears Christmas is ruined, but ultimately, Little Mole discovers that his gift was bigger than he ever imagined.

Download the free Little Mole's Christmas Gift activity pack for kids to continue learning with Little Mole!
"A warm wintertime read with a message for any time of year."
—Kirkus Review