by Catherine Meeks (Editor), Jim Wallis (Foreword) – Morehouse Publishing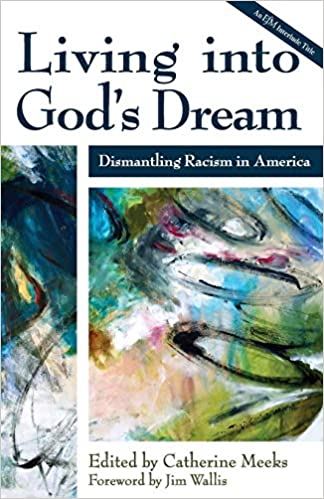 Learn more and purchase from:
While the dream of a "Post-Racial" America remains unfulfilled, the struggle against racism continues, with tools both new and old. This book is a report from the front, combining personal stories and theoretical and theological reflection with examples of the work of dismantling racism and methods for creating the much-needed "safe space" for dialogue on race to occur. Its aim is to demonstrate the ways in which a new conversation on race can be forged. The book addresses issues such as reasons for the failure of past efforts to achieve genuine racial reconciliation, the necessity to honor rage and grief in the process of moving to forgiveness and racial healing, and what whites with privilege and blacks without similar privilege must do to move the work of dismantling racism forward.
The authors of this important book engage the question of how dismantling racism in the 21st Century has to be different from the work of the past and offer ways for that journey to progress.
"'There will be no racial reconciliation in America without justice. There will be no justice without racial healing.' Catherine Meeks writes these words in one of the chapters in this book, and it is the theme woven through the whole work. The authors are animated by a fierce and tender love for humankind wounded by the sin of racism and a profound conviction that God offers us a way through these wounds to new life together. This book is a companion for that journey." -The Rt. Rev. Jeffrey Lee, Bishop of Chicago
"Living into God's Dream presents compelling perspectives on racial healing and justice-making through the voices of a diverse group of authors. The book addresses the complexities of structural and cultural racism, and offers hopeful responses that will resonate with readers, whether they are experienced racial justice advocates or just beginning to explore antiracism ministries. This book is a wonderful resource for Christian communities seeking to deepen their engagement with racial reconciliation." -Heidi J. Kim, Missioner for Racial Reconciliation, The Episcopal Church
"Living into God's Dream is a gift to the church, to be sure, but it is also a gift to the American people. With insights that penetrate and probe the biases that lurk in the most unexamined chambers of our hearts, these essays will help even the most reluctant readers to grapple with the truth about white privilege, white supremacy, and what it means to be Black in America. Better still, these essays provide us with the tools we need-including the motivation-to take up the hard work of dismantling racism in our time." -Richard T. Hughes, Lipscomb University and author, Myths America Lives By