David and Constantino Khalaf – Westminster John Knox Press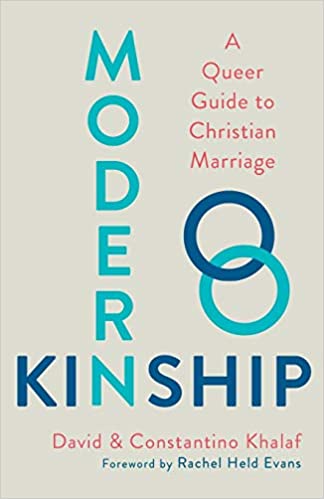 Learn more and purchase from:
Same-sex marriage may be legal in America, but it's still far from the accepted norm, especially in Christian circles. So where can LBGTQ Christians who desire a lifelong, covenantal relationship look for dating and marriage advice when Christian relationship guides have not only simply ignored but actively excluded same-sex couples?
David and Constantino Khalaf struggled to find relational role models and guidance throughout dating, their engagement, and the early months of their marriage. To fill this void, they began writing Modern Kinship, a blog exploring the unique challenges queer couples face on the road from singleness to marital bliss. Part personal reflection, part commentary, and full of practical advice, Modern Kinship explores the biblical concept of kinship from a twenty-first-century perspective. This important resource tackles subjects such as dating outside of smartphone apps, overcoming church and family issues, meeting your partner's parents, deciding when and how to have children, and finding your mission as a couple. Modern Kinship encourages queer Christian couples to build God-centered partnerships of trust and mutuality.
"Modern Kinship is the book that LGBTQ couples have been waiting for. David and Constantino Khalaf take on important and often taboo topics with both wisdom and vulnerability. Offering direction and hope to a marginalized group of people who have long been left out of marriage discussions, Modern Kinship not only validates the unions of LGBTQ couples but helps them last and thrive. I am grateful to finally have a resource for those who need life-giving advice on how to make their marriage last."
—Amber Cantorna, National Speaker and Author of Unashamed: A Coming-Out Guide for LGBTQ Christians and Refocusing My Family
"In this much-needed book, David and Constantino Khalaf take the conversation around same-sex relationships in the church beyond apologetics, offering practical insight and wisdom for LGBTQ Christians seeking to find their way in the world of dating, love, sex, and marriage, all too often without the family and community support they deserve. Through their writing, the Khalafs also show how the faithful witness of same-sex Christian couples can enrich and inform the practice and understanding of marriage for all Christians, regardless of sexual orientation."
—Matthew Vines, Executive Director of The Reformation Project and author of God and the Gay Christian: The Biblical Case in Support of Same-Sex Relationships
"David and Constantino Khalaf have given the LGBTQ Christian community several gifts. Together, they have taken years to work through some of the most crucial conversations and challenges facing an LGBTQ couple who may be seriously dating, engaged or even newly married. David and Tino, thoughtful relationship leaders, have now compiled their wisdom and experiences in this much-needed book. Marriage counseling is often unavailable for LGBTQ Christian couples. In its lieu, David and Tino have created an effective tool that encourages couples to have productive conversations about engagement and wedding plans, fidelity, family, and children. Their book is truly a gift."
—Kathy Baldock, Executive Director of Canyonwalker Connections and author of Walking the Bridgeless Canyon: Repairing the Breach between the Church and the LGBTQ Community
"Christians are overdue for a marriage resource that is intentionally inclusive across all sexual orientations. Modern Kinship is an instant classic, helpful to couples of any arrangement—including straight folks."
—Mike McHargue, Host of Ask Science Mike and Cofounder of The Liturgists
"Couples in same-sex marriages have few places to turn to, and even fewer public examples, for modern, wise counsel on what it takes to build a healthy relationship that will last. Modern Kinship has arrived just in time. New information for and about same-sex committed relationships was the least of all the gifts I received from reading this book. This book brought me a new perspective on faith, fidelity, and what it really means to be a family. I'm thrilled to be able to have something to offer same-sex couples who are looking for practical ways to build a life they love."
—Michelle Peterson, Author of #staymarried: A Couple's Devotional and Cohost of The#staymarried podcast
"Rarely have I seen so much goodness and potential attributed to queer Christian marriages; in Modern Kinship, these sentiments are as abundant as hand fans in a Southern Baptist church. LGBTQ Christians can open the book and see reflected back the imago dei that's within them and the people they care for."
—Sojourners
"This book goes deep. Dave and Tino invite to think deeply, no matter our relationship status, and ask the questions: What does it mean to bring our full selves to our intimate relationships? Their stories of dating, navigating sexual ethics, working with shame, and figuring out how to do marriage as a gay Christian couple are full of hard-won wisdom. Modern Kinship is as practical as it is inspiring; it gives me great hope.
—Matthias Roberts, Host of Queerology: A Podcast on Belief and Being
"As a pastor who was trained on conservative theology, my only knowledge of romantic relationships was based on cisgender heteronormativity. So when our son came out, we have no vision of what a nonhetero relationship would look like. As I've gotten to know Dave and Tino, they have helped me see the beauty of what I had never seen. Their stories removed much of the fears I had for my gay son by undoing the harmful stereotypes that I was brought up with. And I'm thankful that I now finally have a book that I can recommend to queer Christian couples. But the importance of this book is not limited to only queer couples; it is invaluable for parents of queer children who have little understanding of what a healthy, romantic, queer relationship looks like."
—Pastor Danny Cortez, Founder of Estuary Space
"I can't think of a better book when it comes to helping kinfolk in and around our church find belonging, purpose, and love available to all of us! Jesus invited us to embrace the kingdom of God that was among all of us. The Khalafs offer just that to those LGBTQ friends pursuing Christian marriage and allies supporting them along the way."
—Adam Nicholas Phillips, Founding Pastor of Christ Church: Portland