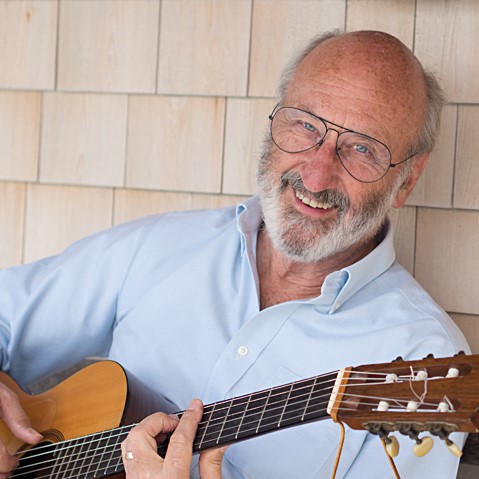 Singer/songwriter Noel Paul Stookey has been altering both the musical and ethical landscape of this country and the world for decades—both as the "Paul" of the legendary Peter, Paul and Mary and as an independent musician who passionately believes in bringing the spiritual into the practice of daily life. Funny, irreverently reverent, thoughtful, compassionately passionate, Noel's voice is known all across this land: from the "Wedding Song" to "In These Times." On March 22, hel will be releasing JUST CAUSES, 15 songs of conscience spanning over 50 years of advocacy. Like Newman's pizza, all profits from this collection will go to charity—each song connected by lyric and meaning to each non-profit organization.
While acknowledging his history and the meaningful association with Peter and Mary —the trio perhaps best known for its blend of modern folk music and social activism, rallying support for safe energy, peace and civil rights at some of the most iconic events in our history—including the 1963 March on Washington with Martin Luther King, Noel Paul has stepped beyond the nostalgia of the folk era. Nearly $2 million, earned from Noel's now-classic "Wedding Song," were used to fund the work of other socially responsible artists, which inspired Noel, along with his daughter Liz Stookey Sunde, to launch Music to Life in 2001. The nonprofit has introduced groundbreaking ways to bring music to life for social change through technology, entertainment, artist collaboration and education. Whether judged by the subject matter of his current concert and recorded repertoire or by virtue of his active involvement with the Music to Life initiative linking music fans to the expression of contemporary concerns via many different artists and musical genres, Noel's current musical outlook continues to be fresh, optimistic and encouraging.
Elizabeth Bannard Stookey, Noel's wife since 1963, has incorporated the "family music" as part of her ONE LIGHT, MANY CANDLES multifaith programs—featuring readings from world spiritual leaders counter-pointed with the songs of her husband. Betty is a graduate of Harvard Divinity School and has served as chaplain at Northfield Mount Hermon School in western Massachusetts. Noel and Betty have three daughters and four grandchildren. They make their home in Maine.
Over the last several years, Noel has been co-writing a memoir (working title The Song is Love: Music, Justice, and Faith Beyond Labels) with Jeanne Torrence Finley. At the Writing for Your Life Conference they will be talking about their book.
http://www.noelpaulstookey.com/
https://www.facebook.com/NoelPaulStookey
https://onelightmanycandles.org/
https://www.peterpaulandmary.com/
Love rules!