by Jennifer Grant – Morehouse Publishing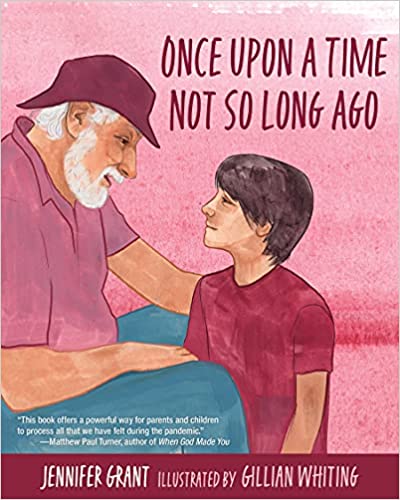 Learn more and purchase from:
Please enjoy this interview with Jennifer about the book.
The story of the COVID-19 pandemic and the changes it brought into our homes, schedules, and social lives, with journal pages to record your own memories.
Children and adults alike will be processing the shock, loss, and disappointment of the COVID-19 pandemic for years to come. This beautiful keepsake picture book captures the joys and sorrows of this time and the underlying message to readers is that they can make it through difficulty.
The illustrations celebrate love, family, and community as they were expressed all across the globe in a time that taught us the meaning of togetherness. It also includes journal pages to record your own memories about this unique and historic time and the effect it has had on your own life.
"This book offers a powerful way for parents and children to process all that we have felt during the pandemic."
―Matthew Paul Turner, author of When God Made You
"This book provides hope and meaning for children without glossing over the difficult facts of what happened."
―Traci Smith, author of Prayers for Faithful Families
"Jennifer Grant's economy of words and Gillian Whiting's gentle, evocative illustrations combine to remind the reader that in the face of great suffering and loss, still there is hope and healing to be found."
―Glenys Nellist, author of Snuggle Time and the Little Mole series
"Jennifer Grant encourages readers to reflect on what they've discovered is important as they emerge from these tough times. Illustrations by Gillian Whiting . . . portray a diversity of people and locales, reminding readers that the sickness struck across all ages, races, and locations. A beautiful book."
―Patricia Toht, author of Dress Like a Girl
" . . . This is a book about resilience and hope―a book about remembering. Jennifer is gentle in word and spirit – and her words, paired with the lush and evocative illustrations by Gillian Whiting, provide space for holy remembering."
―Roger Hutchison, author of Come In, Come In!
"Thank goodness for Jennifer Grant and her truth- and hope-filled language to guide forward as we look back. A terrific resource for kids and adults alike."
―Caryn Rivadeneira, author of the Helper Hounds series