by Vivian Mabuni – Waterbrook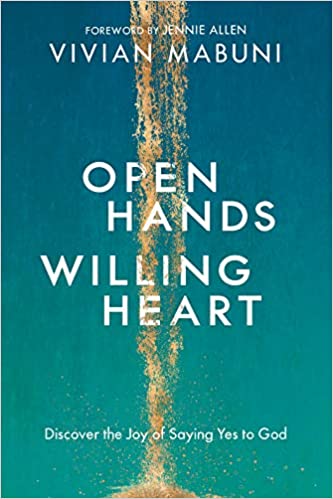 Purchase here:
Discover how yielding ourselves wholly to God, especially in the midst of challenging circumstances, lends new purpose to our lives.

"Vivian Mabuni is a kind and trustworthy guide through one of adulthood's secrets: life doesn't go like you thought it would."—Jen Hatmaker, New York Times best-selling author of For the Love and Of Mess and Moxie

As women after God's heart, we honestly desire to please God. We want to be used by Him and to experience the peace and fulfillment He wants for us. Yet it's all too easy to fall into living mechanically, with a rule-based approach to the Christian life, or to focus on getting what we want when we want it. Even when we want to be willing, saying yes to whatever God asks often feels scary, and the distractions of this world get in the way.

Vivian Mabuni knows this all too well, but she's discovered that open-handed living starts with an intentional posture of the heart. Through surrender to His will, we draw closer to God in a way that makes our day-to-day lives more purposeful, powerful, and pleasing to Him.

With Vivian's warm encouragement in Open Hands, Willing Heart, you'll learn how to step out in courageous trust as you invite God to give and take—and move and work—in your life as He sees fit. Along the way you'll discover true joy and serenity that will carry you through every circumstance.