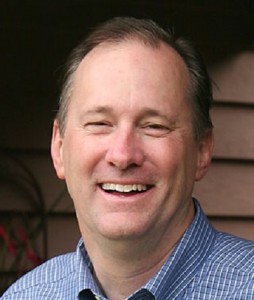 Philip Gulley is a pastor at Fairfield Friends Meeting in Camby, Indiana, near Indianapolis. He lives in the nearby town of Danville with his wife Joan and their two dogs, Ruby and Jack. They have two sons, and one granddaughter, Madeline, who rules the roost.
An eclectic writer, Phil has published 20 books, including the acclaimed Harmony series chronicling life in the eccentric Quaker community of Harmony, Indiana and the best-selling Porch Talk series of inspirational and humorous essays.  Gulley's memoir, I Love You, Miss Huddleston: And Other Inappropriate Longings of My Indiana Childhood, recounts his coming-of-age years in Danville, Indiana.  In addition, Gulley and co-author James Mulholland describe their progressive worldview in their books If Grace Is True and If God Is Love, followed by Gulley's books If the Church Were Christian and The Evolution of Faith.
In his most recently published work of non-fiction,  Living the Quaker Way: Timeless Wisdom For a Better Life Today,  Gulley offers the opportunity to participate in a world where the values of the Quaker way bring equity, peace, healing, and hope. A Place Called Hope, Gulley's most recent release, continues the fictional exploits of Sam Gardner, first introduced in Gulley's Harmony series.
Website: http://www.philipgulley.com/
Facebook: https://www.facebook.com/philip.gulley
Events