by Greg Stielstra – HarperBusiness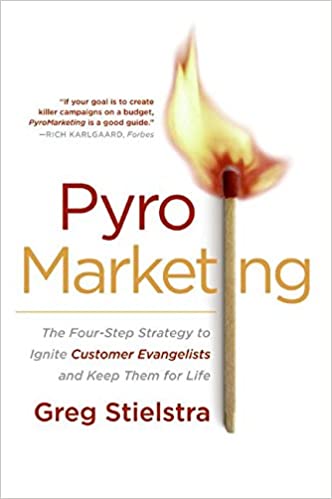 Purchase from:
The era of mass marketing is ending—replaced by the power of customer evangelists unleashed through a systematic approach to word-of-mouth called PyroMarketing. Learn how the system that sparked a revolution in the Christian marketplace can fuel the success of your business.
Word-of-mouth is the biggest influence on consumer purchases and its influence is growing. How do you tap its power?
The key is not some new technology or advertising fad. The best way to understand the marketing process, the way messages are sent, received, acted upon, and spread, is to think of fire. PyroMarketing simplifies word-of-mouth to a four-step system that optimizes your advertising dollars by targeting the right customers and then converting them into unpaid sales and marketing evangelists.
Tapping the latest research into the brain and human behavior, Greg Stielstra demonstrates how traditional marketing techniques are expensive, obsolete, and doomed to failure—while PyroMarketing principles deliver powerful results over the long-term and for less money. Illustrated with case studies including The Purpose-Driven Life, one of the bestselling books of all time, and the breakaway phenomenon The Passion of the Christ, PyroMarketing is a comprehensive strategy that can help any business reach and retain new markets.