by Leigh Finke – Broadleaf Books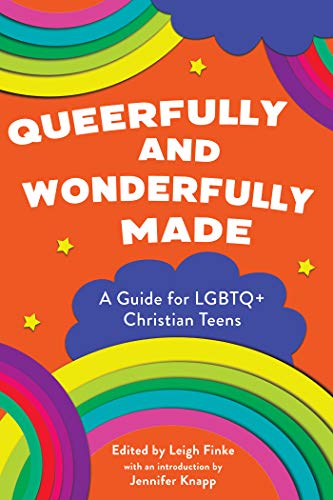 Learn more and purchase from:
Are you LGBTQ+? Not sure? Whether you're queer or questioning, understanding sexuality and gender identity can be confusing. And if you're a Christian, questions of identity can be even scarier. Is there something wrong with you? Will your friends accept you? When should you tell your family? What about church?
Queerfully and Wonderfully Made: A Guide for LGBTQ+ Christian Teens has answers to all these questions and more. You'll get insight and support from an amazing group of LGBTQ+ professionals, as well as testimonies from young adult queer Christian who've recently been exactly where you are. You'll walk away with a lot of answers, prepared with tools to help. But most importantly, you'll hear the good news: God loves you exactly as you are. No matter your identity or where in your journey of self-discovery you find yourself, you got this.
"Indispensable and compassionate guide for queer Christians…An affirming, thorough, and supportive guide for understanding one's identity as well as a pertinent resource for LGBTQ+ allies." [Starred Review] –School Library Journal
"A must-read guide for all queer and questioning Christians (and their allies, too)!" [Starred Review] –Kirkus Reviews
"Queerfully and Wonderfully Made is informative, sincere, and unflinchingly honest. Perhaps most importantly, it takes the questions, feelings, and concerns of teenagers seriously, consistently reminding them of their true name, their true nature: beloved." –Bryan Bliss, National Book Award Longlisted author of We'll Fly Away
"Organized as a candid Q&R, pulsing with wisdom from the authors and other 'witnesses,' this book should be not only in the hands of young people struggling with faith and sexual/gender identity, but on the bookshelf of every youth director, pastor, and Christian educator in the church." –The Rev. Dr. Jacqui Lewis, Senior Minister Middle Collegiate Church
"Playfully designed for a youthful audience, this book is conversational and skimmable, cleverly set up like an FAQ. Queerfully and Wonderfully Made is the much-needed guide every queer or questioning Christian teen should have." –Sarah Prager, K12 author of Queer, There, and Everywhere: 23 People Who Changed the World and Rainbow Revolutionaries: 50 LGBTQ People Who Made History
"I wish Queerfully and Wonderfully Made had existed when I was a teenager. On page after page, readers are challenged to practice gentleness with themselves as they wade in the natural questions that come with being a growing, inquisitive person created in God's image." –Broderick Greer, Associate Priest for Liturgy and Young Adults, Saint John's Cathedral, Denver