by Kate Rademacher – Broadleaf Books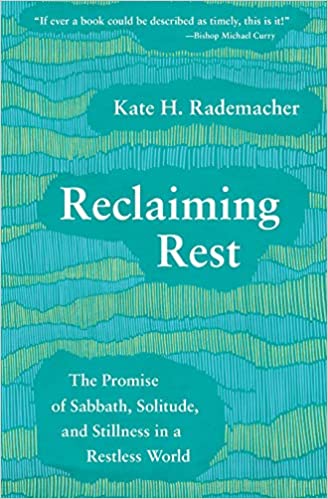 Learn more and purchase from:
Stillness. Prayer. Sabbath. In a restless world, what do those words even mean?
Public health expert Kate H. Rademacher grew up thinking it was up to humans to bring healing and justice to earth. Saving the world meant working long hours, answering emails day or night, and competing for professional awards and funding. In an era of pandemic, racial injustice, and deepening inequality, who's got time for a nap?
Stressed out and frazzled, Rademacher landed on the Christian story, in which a sought-after Savior retreats to solitary places and prays alone in the wilderness. In the pages of Reclaiming Rest, Rademacher tells the story of a year of monthly Sabbath retreats, during which she withdraws from family and work obligations for periods of solitude. She also experiments with disciplines like walking, praying, taking a break from social media, and finding a Sabbath buddy. In lyrical and astute prose, Rademacher teases out answers to questions like: What does rest in a restless world look like? How is Sabbath connected to issues of justice? Vocation? Parenting? Simplicity?
Ultimately, Rademacher claims, Sabbath pierces our illusions of self-reliance and control, and that's good news. What if keeping the Sabbath is not only a commandment to obey but a freedom to reclaim?
"With great effectiveness Kate Rademacher shows us both why the practice of keeping Sabbath is so crucial and how it can become a reality. A much-needed read for anyone who takes seriously the way of Love to which Jesus calls us–which includes the call to rest." –Rev. Michael Curry, presiding bishop of The Episcopal Church and?author of Love Is the Way: Holding on to Hope in Troubling Times
"If you do not recognize yourself in the first few pages of this compelling, sage, and down-to-earth book, trust me: Rademacher is going to call your name before she is through. I cannot think of another book that makes a better case for wedding faithful activism to equally faithful rest." –Barbara Brown Taylor, author of Always a Guest and An Altar in the World
"What a refreshing invitation, as timely as a cool drink of water on an overheated day. In these exhausting, driven, and shattered times, may we heed her call to honor ourselves and God by humbly retreating to good Sabbath rest." — Patricia Raybon, author of I Told the Mountain to Move: Learning to Pray So Things Change and The One Year God's Great Blessings Devotional
"Here, we have prose that snaps, practical suggestions coupled with deep wisdom, spirituality connected to politics, and, finally, not just an invitation to a single practice called Sabbath-keeping, but rather an invitation to a more faithful way of life." –Lauren F. Winner, author of The Dangers of Christian Practice and Wearing God
"Kate Rademacher's writing is a delight, and she brings science, spirituality, and common sense together in just the way people like me most relate to and enjoy. This book could be what saves your sanity in these stressful times." –Brian D. McLaren, author of Faith after Doubt
"In Reclaiming Rest, Kate H. Rademacher both inspires and challenges us to restore the deep freedom that we receive in keeping a Sabbath day. She is an eloquent writer and a natural storyteller, which makes this book as delightful to read as it is spiritually nourishing." –Carl McColman, author of Unteachable Lessons and Eternal Heart
"In an era of exhaustion, Kate Rademacher has written the book we all need to read. By seamlessly weaving theology, history, and personal narrative, Rademacher creates a compelling case for the original intent of the Sabbath: not only to restore our week but to restore our lives." –Kathy Izard, author of The Hundred Story Home and founder of Women Faith & Story