by Angela Denker – Fortress Press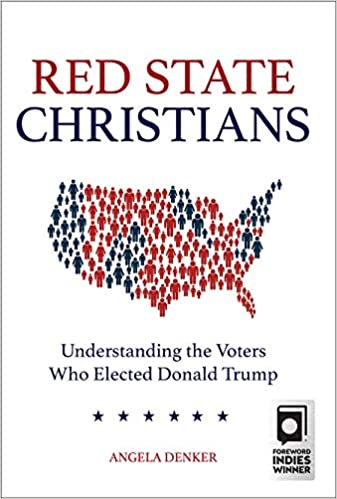 Learn more and purchase from:
Winner of a 2019 Foreword INDIES Award Silver Medal
Donald Trump, a thrice-married, no-need-of-forgiveness, blustery billionaire who rarely goes to church, won more Evangelical Christian votes than any candidate in history on his way to winning the 2016 US presidential election. Veteran journalist Angela Denker set out to uncover why, traveling the United States for a year, meeting the people who support Trump, and listening to their rationale.
In Red State Christians, readers will get an honest look at the Christians who gave the presidency to the unlikeliest candidate of all time. From booming, wealthy Orange County megachurches to libertarian farmers in Missouri to a church in Florida where the pastors carry guns to an Evangelical Arab American church in Houston to conservative Catholics on the East Coast–the picture she paints of them is enlightening, at times disturbing, but always empathetic. A must-read for those hoping to truly understand how Donald Trump became president.
"Denker did not, as too many reporters have, visit two grumpy Trump voters in a rust-belt diner for a superficial chat. She traveled the country, probing the most fascinating contradiction in modern America: the religious Trump supporter. Incisive and thoughtful, tough yet empathetic, personal and honest, this book explodes clich's and takes you into the hearts and minds of people you may not have met and who may surprise you, for better or worse." –Jim Souhan, columnist, Minneapolis Star Tribune
"(An) enriching debut…Denker etches a vivid and revealing picture of the moral bargains struck by evangelical Christian Americans." –Publishers Weekly
"Angela Denker's Red State Christians is pure revelation. Denker's empathetic ear combines with dogged reporting to reveal Trumpism's genesis and the nature of its stronghold in Red State America. This book is essential reading for all Americans." –Lisa Sharon Harper, author of The Very Good Gospel: How Everything Wrong Can Be Made Right
"The richness of the book lies in Denker's refusal to tie her results neatly into a grand narrative." –The Christian Century
"Red State Christians helps bring clarity to some fundamental questions many have been asking since the last election. Angela Denker does a wonderful job of helping the reader begin to understand both the simple and complex dynamics that make up the relationship between politics and much of the evangelical world." –Boz Tchividjian, attorney and founder of GRACE
"Some readers will differ sharply with Denker over her political and theological views–as I do in some respects–but her intrepid forays of empathy show us how these very differences can be met with love rather than with bitter, downwardly spiraling enmity." –America Magazine
"Red State Christians will surprise you, maybe even shock you. Angela Denker will take you with her to interview people in churches where you'll be shocked at what's said both in and out of the pulpit. She'll also introduce you to people who defy stereotypes and behave far better than you'd expect based on who they voted for in 2016. Whoever wins the next election, we're all neighbors, and we need to get along. Books like Angela's can help mend the tears in our social fabric–if you'll dare to let her be your guide in a tour across our nation." –Brian D. McLaren, author of A New Kind of Christian
"What we call 'red states' are an optical illusion–places where religion has been used to pit neighbors against one another so a minority can maintain political control. But what Denker calls 'Red State Christians' are real. They've been cultivated for forty years by the Religious Right, and they've led the charge toward extremism in American public life. But they are our fellow Americans and family at God's welcome table. We need to listen closely to hear their pain and to learn how their healing is an essential part of the healing of our land." –Jonathan Wilson-Hartgrove, author of Reconstructing the Gospel: Finding Freedom from Slaveholder Religion
"In Red State Christians, Angela Denker moves us beyond the caricatures of Evangelical voters by exploring their world and revealing their words. She gives us insight into one of the most important and powerful political subcultures in the United States. Fair and enlightening, this is a book you'll want to read." –Carol Howard Merritt, author of Healing Spiritual Wounds