by Duke Kwon and Gregory Thompson – Brazos Press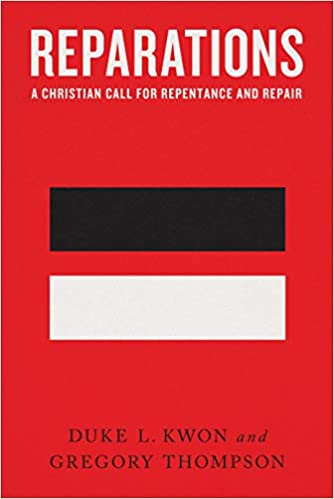 Learn more and purchase from:
"Kwon and Thompson's eloquent reasoning will help Christians broaden their understanding of the contemporary conversation over reparations."–Publishers Weekly

"A thoughtful approach to a vital topic."–Library Journal
Christians are awakening to the legacy of racism in America like never before. While public conversations regarding the realities of racial division and inequalities have surged in recent years, so has the public outcry to work toward the long-awaited healing of these wounds. But American Christianity, with its tendency to view the ministry of reconciliation as its sole response to racial injustice, and its isolation from those who labor most diligently to address these things, is underequipped to offer solutions. Because of this, the church needs a new perspective on its responsibility for the deep racial brokenness at the heart of American culture and on what it can do to repair that brokenness.
This book makes a compelling historical and theological case for the church's obligation to provide reparations for the oppression of African Americans. Duke Kwon and Gregory Thompson articulate the church's responsibility for its promotion and preservation of white supremacy throughout history, investigate the Bible's call to repair our racial brokenness, and offer a vision for the work of reparation at the local level. They lead readers toward a moral imagination that views reparations as a long-overdue and necessary step in our collective journey toward healing and wholeness.
You can view an interview with Duke Kwon here.
"Reparations is a book for this moment. It is a call to action to offer tangible restitution for the historic exploitation of Black labor. While Christians should have been leading the way on this all along, sadly, too many have demonstrated compromise and complicity instead. A timely call for reparations and the dignity of all people."
—Jemar Tisby, CEO of The Witness Inc.; author of the bestselling book The Color of Compromise
"Reparations is passionate, clear, smart, thoughtful, and blessedly troubling. I hope every American Christian leader–especially White Christian leaders–will read it because it is truly the rare book that, if taken up with an open heart, has the potential to change the world."
—Tish Harrison Warren, Anglican priest; author of Liturgy of the Ordinary and Prayer in the Night
"This book should be essential reading in classrooms and Bible studies, in religious sanctuaries and the halls of Congress, and for every single believer who cares about justice and equality."
—Joshua DuBois, CEO, media commentator, and former director, White House Office of Faith-based and Neighborhood Partnerships
"What hope do we have of racial reconciliation unless we right the wrongs of our past? Kwon and Thompson have argued convincingly that reparations is a necessary part of the healing of our churches and our nation, and that people of faith should be leading the way. Read this book and learn how to be a bridge builder for reparations."
—Latasha Morrison, founder of Be the Bridge and New York Times bestselling author of Be the Bridge: Pursuing God's Heart for Racial Reconciliation
"Kwon and Thompson do a compelling job of laying out the historic legitimacy, the moral necessity, and the biblical urgency for reparations from slavery. American Christians, especially those of us who are White, should read, internalize, and act upon these arguments with our whole being."
—Mark Labberton, president, Fuller Theological Seminary