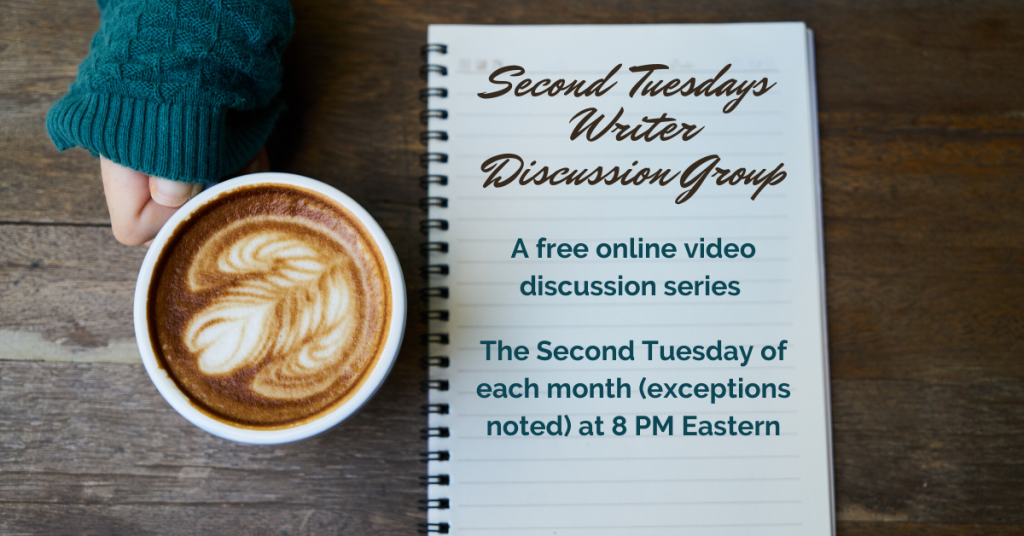 Welcome to Second Tuesdays! This free online video discussion series features several authors who have a heart for helping other authors! Each month we have an open, informal discussion on a different topic. Everyone is welcome to ask questions!
When: the Second Tuesday of the month at 8 PM Eastern; upcoming discussions: September 14, October 12, November 9, December 14
Where: On Zoom, of course!  Here is the link to participate in any of the live sessions: https://us02web.zoom.us/j/900708245pwd=ZkJwTnJFcDA1ODgxdUNvemZ0VXJvdz09
What: The topic of our discussion is different each month, with a different set of author participants. If there is a particular topic you would like us to discuss, please let us know here. September's topic will be: "Connecting With Your Audience Before You Write Your Book"
Have you clearly identified why your readers feel they need this book?
Share the target audience of your book.
What are members of that audience feeling inside that will drive them to buy your book?
In this conversation, we will discuss how to match your title, your back cover copy, and your table of contents to communicate the promise of your book to the reader. Even though the publisher reserves the right to entitle the book, and the back cover copy is typically written in house, these three items together show that the author identifies with the felt need of the reader, and the message of the book scratches exactly where the reader itches.
If you would like to receive email reminders in advance of each group meeting, please let us know here.
Each session will be recorded and available on this page for later enjoyment. Past discussions can be found at the links below:
A few links from the August discussion:
https://businessesgrow.com/2020/07/30/personal-brand-3/ https://businessesgrow.com/2020/07/16/pandemic-survival/ https://businessesgrow.com/2020/06/18/personal-productivity/ https://businessesgrow.com/2020/07/13/creating-insights/ https://businessesgrow.com/2020/06/25/consumer-behavior/https://trello.com/en-US
https://www.focusmate.com/