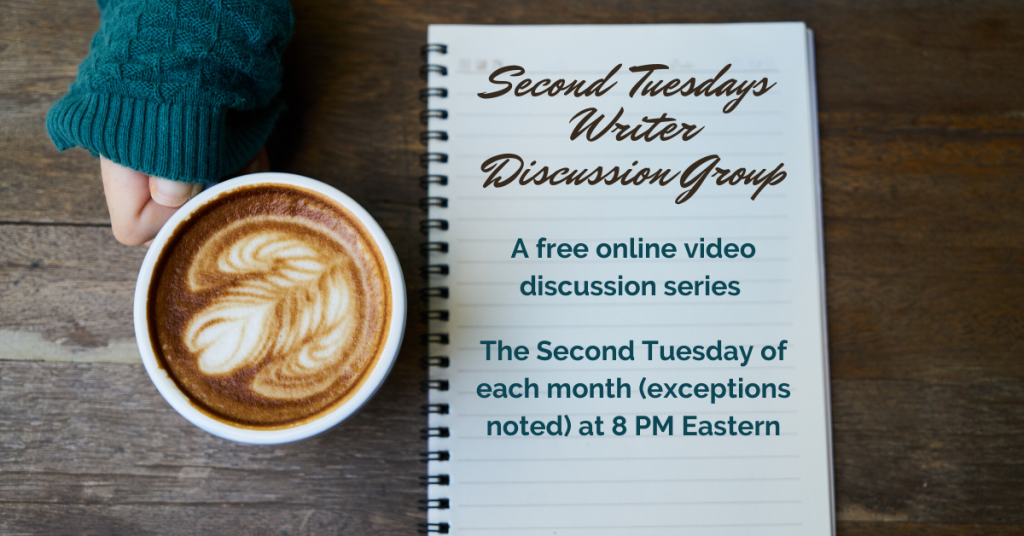 Welcome to Second Tuesdays! This free online video discussion series features several authors who have a heart for helping other authors! Each month we have an open, informal discussion on a different topic. Everyone is welcome to ask questions!
When: the Second Tuesday of the month at 8 PM Eastern; upcoming discussions: October 11, November 15 (third Tuesday), December 13
Where: On Zoom, of course!  Here is the link to participate in any of the live sessions: https://us02web.zoom.us/j/84961365316?pwd=bWhWTHNueHpUWldIMEtleHZDL2JnZz09
What: The topic of our discussion is different each month, with a different set of author participants. If there is a particular topic you would like us to discuss, please let us know here. October's guest speaker will be Kerry Connelly and our topic will be "How to Write About Hard and Controversial Things".
If you would like to receive email reminders in advance of each group meeting, please let us know here.
Each session will be recorded and available on this page for later enjoyment. Past discussions can be found at the links below:
September 2022:

"W

riting as risk and renewal" with Susan K. Williams Smith

May 2022: "Disarming: Unpacking Loaded Language with Marilyn McEntyre
April 2022: "Being a Bi-Vocational Writer" – if/how we can juggle – and honor – our multiple vocational callings with Kate Rademacher
March 2022: "The power of representation" with Dorena Williamson
February 2022: "Building your network — How to form, maintain, and navigate relationships with other authors" with Traci Smith
January 2022: "When you're told your writing is too secular for Christian publishers, and too Christian for secular publishers" with Arthur Bolkas
December 2021: "Identifying guiding words to remind us why we write" with Brent Bill
November 2021:

"Finishing Well: completing projects in a topsy-turvy world" with Sophfronia Scott

October 2021: "Navigating Your Interior Life While Writing" with Vinita Hampton Wright
September 2021: "Connecting With Your Audience Before You Write Your Book" with Sharon Norris Elliott
June 2021: "Writing Flash Fiction" featuring Xochitl Dixon
May 2021: "What the Ancient Stoics Have Taught Me About Being a Writer–And What They Can Teach You Too." with Lori Erickson
April 2021: "What Is a Writing Coach and Should I Invest in One?" with Erin Healy
March 2021: "The Art of Interviewing" with Philip Yancey
February 2021: "The Challenges of Writing into Reality and Division" with Diana Butler Bass
January 2021: "2020 is over; time for a new start" with Lyn Cryderman
December 2020: "ending the year well" with Brent Bill
November 2020: "writing during a chaotic 2020" with Patricia Raybon
October 2020: a discussion on children's books with guest author Glenys Nellist
August 2020: "What does "re-entry" look like with summer winding down and trying to find some semblance of an academic year routine? What does "Writing in a Pandemic" continue to look like practically.

"

July 2020: "

Creative Ways to Vision the Future of the Spiritual Writing"

June 2020: "Transformation"
May 2020: "How to Respond to a Crisis"
April 2020: "Writing During a Pandemic"