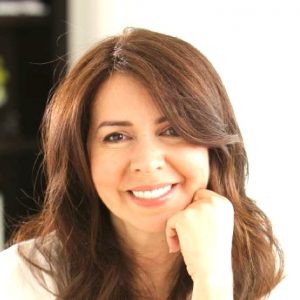 Born in Puerto Rico, Sharon M. Koenig is an author, speaker and mother. Her spiritual search began as a way to find answers to overcome a difficult childhood that no success or relationship could heal. Sharon set aside her successful career as a fashion designer and manufacturer after her daughter was born and began to transform her gift for creative expression by becoming a "change catalyst" with a vision for a new inclusive spirituality. Before becoming an author, Sharon produced and developed motivational events and personal-growth projects for the Latin-American community featuring leaders and authors from various spiritual backgrounds. Sharon studied world religion under the direct tutelage of some of these spiritual leaders and considers herself an inter-confessional Christian, making tolerance and compassion the guiding light of her religious language.
Many readers describe Sharon as a writer who can translate profound spiritual lessons into simple and practical terms. With an ever-increasing international following, Sharon has presented her book in various bookstores and other media venues across the United States, Latin America and Spain, including CNN Español, Univision and Telemundo.
Sharon volunteers her time and leadership for various wellness and faith community-based projects that represent mothers and children. She is proud to have served on the Baby-Friendly USA board, a UNICEF initiative in support of breastfeeding and early mother-and-child bonding. She currently publishes "La Guía de Lactancia", a free guide for mothers, printed by Puerto Rico government agencies.
Sharon M. Koenig has published three books: Los Ciclos de Alma (Ediciones Obelisco, Barcelona, 2011) a #1 Bestseller on Amazon with 40 weeks in the Top 100, now in its 7th edition; Las 12 promesas del alma (HarperCollins Español, 2016); and most recently, Desde Om hasta Amén, Sharon's memoir about her spiritual journey (HarperCollins Español, 2017).
Sharon loves gardens, music, travelling, reading, philosophy and nature. She is currently working on the English translation for her last book From Om to Amen, A Spiritual Journey. Sharon lives in Miami with her daughter Gabbie and two of the cutest Persian cats.
"My goal is to reach and inspire as many people as I can with a vision of a compassionate and inclusive spirituality; to share the journey for our authentic purpose together with peace of mind, through a conscious and everlasting connection with our unconditionally loving God."