by Elizabeth Jarrett Andrew – Skinner House Books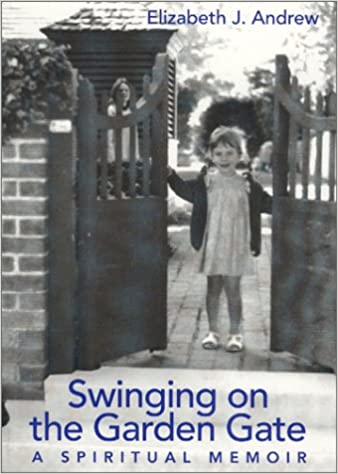 Learn more and purchase here:
A woman's coming-of-age journey through the rugged landscape of Wales to the reflective quiet of a retreat center. Along the way she questions and explores the depth of her Methodist faith as she comes to terms with her bisexual identity.
Andrew skillfully and seamlessly weaves the threads of spirituality, sexuality and the creative process out of the compelling events of her life.  Her inspiring memoir stretches from the faith of her childhood, in which she was "taught to look for the Word in the Bible," to her revelation as an adult that "the word of God resides in each of us–it dwells among us, full of grace."
In Swinging on the Garden Gate Elizabeth J. Andrew, a writing instructor and spiritual director who makes her home in Minneapolis, MN, tells the story of how she awakened to her sexuality, accepted and found an embodied God in the circumstances of her life, and connected to those touched by her self-discovery. The metaphor of her life as a garden first dormant, then blooming, then finally, riotously alive works because Andrew is a writer of such extraordinary power and beauty.
-Rosemary Bray McNatt, a minister of the Unitarian Universalist Association and columnist for the UUA magazine.
"…thought provoking and informative…all bisexual young people should read this."~Amazon reviewer
When I was exploring my sexuality/identity, your book about being Christian and bisexual was the only book in the whole wide world that I found for that voice. –Tess in New Zealand