by Paul Pastor – David C. Cook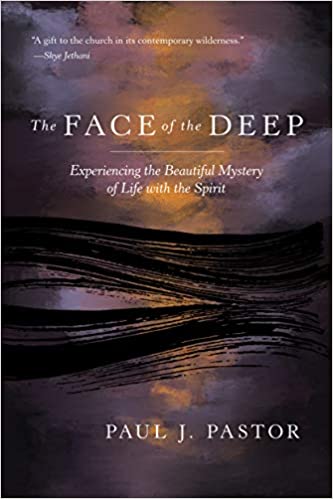 Learn more and purchase here:
Our daily struggles often mask a difficult question—Where is God? With fresh biblical insight, beautiful language, and an eye toward the deep wonder of God's everyday presence, The Face of the Deep challenges readers to experience the wild, joyful mystery of God's Spirit moving in their lives.
 
Fans of Eugene Peterson, Madeleine L'Engle, Ann Voskamp, and others will find a reading experience like few others. The Face of the Deep is rich in meaning, rooted in theology, fresh in content.  This is a book to be read again and again—a book to be lived. Includes 14 original icons inspired by the writing, from acclaimed artist Martin French.
"Out of the recent desert of writings on the empowering presence of God comes this book. Creative, thoughtful, rooted, mysterious—it pairs well for a conversation about God's activity in the world."– John Mark Comer, Author of The Ruthless Elimination of Hurry
"The Face of the Deep is grounded in Scripture and steeped in awe and wonder. This exploration of the Person and work of the Holy Spirit is creative, thorough, and profound—and as much-needed as it is refreshing."– Karen Swallow Prior, PhD, author of On Reading Well
"Paul J. Pastor has given us an icon in prose. Words spark from the pages to display with brilliant color the vitality and beauty of the Spirit. Not content to let the Holy Spirit be merely a theological confession or an experiential aberration, Pastor calls us beyond the face of the deep to experience the mystery of life with the Spirit."– Glenn Packiam, associate senior pastor of New Life Church
"Often while reading The Face of the Deep, I had to pause, think, and reread a passage too rich and too insightful for a single consideration. Moreover, what hooked me first to that passage were its sharp images and its stout language. I have no doubt that anyone who does not skim but attends closely to Pastor's book will experience the same inspiring jolts."– Walter Wangerin Jr., winner of the National Book Award
"A theologically rich, soul-stirring vision of what the life of the Spirit looks like. This book is a great step forward in helping us have ministries that not only preach the gospel but do so with power, deep conviction, and the Holy Spirit."– Jon Tyson, lead pastor of Church of the City and author of Beautiful Resistance