by Ebony S. Small – IVP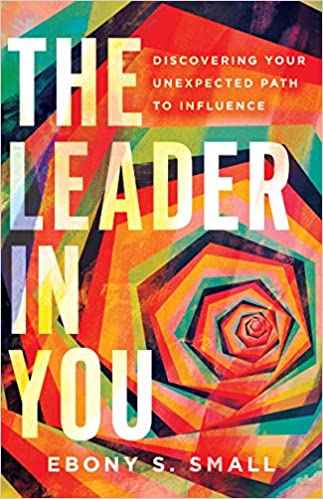 Learn more and purchase from:
Have you ever been thrust into a surprising place of leadership? Are you looking for a mentor who has had similar experiences? Ebony S. Small is a young leader with a wealth of experience in both churches and organizations. She's got practical and biblical wisdom to offer whether you are just starting or are looking for a fresh start in your life and leadership. Every life experience―good, bad, or indifferent―is a distinct marker that God used to hardwire you for purpose and help you lead from an authentic and healthy place. The power of God's presence is not just for your benefit but also for all in your sphere of influence. This book invites you to discover your unique leadership gifts and skills, showing how our obedience to God unleashes a ripple effect that can alter the destiny of generations to come.
"Ebony Small has written an extraordinary book about her transformational journey in Christ. From New York City to the world, Ebony writes with great transparency and thoughtfulness. Be inspired."– Mac Pier, founder of Movement.org
"I am proud to call Ebony Small a friend. Few young leaders have the intellectual, spiritual, and social qualities Ebony exhibits, and fewer still have the ability to share what they have learned quite so effectively. In The Leader in You Ebony uses her life story to share deep, practical advice on how all of us can become more useful tools in building the kingdom. We are all leaders in one way or another, and I am grateful that God raises up amazing young leaders like Ebony so that we can all become more effective."– Kevin Palau, president and CEO of the Luis Palau Association
"Ebony Small shares personal experiences that led to a transformational understanding of God's revealed purpose for her life. She also deftly weaves in examples of leaders―from men and women of biblical history to twenty-first-century visionaries in ministry, business, and entertainment―whose lives illustrate her insight on leadership development. The Leader in You also poses reflection questions that will inspire and empower emerging leaders committed to pursuing a God-honoring life."– Michael G. Scales, president of Nyack College and Alliance Theological Seminary
"Ebony Small is my friend and one of the most dynamic voices rising up in the church today. In an age of same-old leadership models and advice, The Leader in You offers a prophetic word from someone who can relate with anyone who feels they don't quite fit the mold. If you are seeking to find your place in God's movement, this book is for you. There is a generation waiting to be unleashed, and I believe The Leader in You could be the catalyst."– Nick Hall, chief communicator and founder of PULSE
"Ebony Small takes us through an inspiring journey of learning readily applicable leadership techniques while sharing her personal story of spiritual growth and leadership development. She provides a helpful roadmap for discovering the type of leader you are and applying it to multiple areas of your life. Read this book to understand yourself more and become a better leader."– Justin Tennison, president of PULSE
"In a time when leadership scholarship can be easily separated from practice, Ebony's words match her walk. This necessary resource provides an authentic account of leadership from a woman who has blazed many trails and invites readers to rediscover their God-given gifts. If you are questioning your courage to lead or looking for ways to embolden your calling, this book is for you!"– Nicole Martin, director of United States ministry for the American Bible Society
"The Leader in You is about Ebony Small's life . . . and your life! Ebony invites us into the 'God-story' of her life, revealing―with vulnerability, humility, and insight―how God has not wasted a single marker in her life for his greater purpose. And The Leader in You is about God's story in you! With wisdom and practicality, Ebony invites each of us to live courageously in discovering God's grander purpose for our life. Prepare for life change!"– Craig Sider, president and CEO of Movement.org
"Ebony Small's emergence as a leading voice in her generation flows from deep wells of discernment and wisdom. In The Leader in You she shares how our meeting God's process of calling and shaping us as leaders with openness and obedience positions us for surprising outcomes. Regardless of the level of influence to which you are called, this book will bless you."– Claude Alexander, senior pastor, The Park Ministries, Charlotte, North Carolina
"It's been said that when Paul had a difficult letter to write, he was careful to dip his pen in tears and not in acid. Leadership is such a subject matter. My dear friend author Ebony Small certainly did the same in her book The Leader in You. It allows the reader to feel understood, exhorted, admonished, and encouraged, all at the same time. I recommend it highly!"– Jazmin L. Montes, pastor at Community Christian Center, Staten Island
"It's not often that a young author inspires readers to consider the role they can play to advance God's kingdom. Ebony's book is for all who seek to maximize their leadership potential. Her experiences and story will empower and guide you to be your best self in response to a higher calling."– Wanji Walcott, chief legal officer at Discover Financial Services