by Paul Pastor – Zeal Books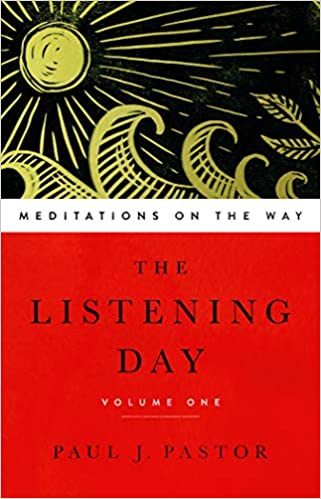 Learn more and purchase here:
Encounter God with Renewed Hope
God invites us to know him, now. In the midst of our often wearying and distracting world, he is quietly speaking—but we must quiet ourselves and learn to listen for his love. Grounded deeply in the words and images of the Bible, The Listening Day is a collection of 90 devotional readings to help you know God today.
Author Paul J. Pastor invites you to listen in on honest conversations with God, who encourages, laughs, loves, rebukes, invites, and instructs. Each day's reading ends with a short prayer inviting you to experience God's rich presence.
"How beautiful the light is." "Yes, and how dangerous …"
Connect with the Holy One, your strong companion for the journey of hope ahead. Hear his voice and be heard. The Listening Day will focus your mind, comfort your heart, and deepen your soul as you travel your own path on Christ's Way.
Every morning of their dusty journey, the Jews found bread on the ground: manna. That was the mysterious bread that fed them, sustained them, kept them on the way. Pastor's book will be just that manna for your soul. The mysteries within cannot be fully understood, or even articulated, but they will feed you. I commend this book heartily. Get up. Your morning has come. Eat the mystery that this book describes.(Dr. A.J. Swoboda, author of The Dusty Ones: Why Wandering Deepens Your Faith and pastor of Theophilus Church in Portland, Oregon)
With the debut of The Listening Day, I can say with great confidence and enthusiasm that Paul J. Pastor is one of the best spiritual writers of this generation. In fact, this breathtakingly beautiful offering has turned Pastor into one of my favorite writers of all time. It is clear that each meditation is the fruit of unhurried time spent in the presence of God. As you read, you will be nourished with the nourishment Pastor received from God. It has truly been a means of grace to me a great gift. I will recommend it to everyone I know.(Marlena Graves, author of A Beautiful Disaster: Finding Hope in the Midst of Brokenness)
The lofty work of considering the divine can often be disembodied and disconnected from eathbound beauty and the human condition. Paul reattaches the divine and the human in a poetic and thoughtful reading experience.(Dan Haseltine, founder of Blood:Water and lead singer of Jars of Clay)
My heart's desire is to trust; to live inside the grace of one day. In your hands is a brilliantly crafted companion for your journey into living that grace. I love The Listening Day because it is helping me do just that.(Wm Paul Young, author of The Shack, Cross Roads, Eve: A Novel, and Lies We Believe about God)
The Listening Day is a devotional of creative exercise for the way we interact with both our own hearts and with God. At turns surprising, poignant, joyful, and devastating, Pastor invites us into new ways of seeing on each page. It caused me to notice both the rocky and the soft soil in the garden of my heart, and by the end, I had already discovered new places where the truly good news was able to bloom.(D.L.Mayfield, author of Assimilate or Go Home: Notes from a Failed Missionary on Rediscovering Faith)
Here is a book to be read slowly and savored. These meditations will help you become more present to God and more aware of his work in your life and the world. Read and be nourished.(Dr. Kris Kandiah, author of Paradoxology: Why Christianity Was Never Meant to Be Simple and founding director of Home for Good)