by Amy-Jill Levine and Sandy Eisenberg Sasso – Westminster John Knox Press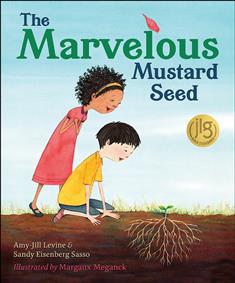 Purchase from:
"A child plants a mustard seed in an empty garden. It is an itty-bitty seed. It isn't anything very special—yet."
Discover the surprising potential of one small seed in The Marvelous Mustard Seed. Based on Jesus' parable of the Mustard Seed, this inspiring children's book shows young readers that one tiny seed—just like one small child—carries a world of potential. The Marvelous Mustard Seed features ethnically diverse characters, and it is ideal for children ages 4-8. A special note for parents and teachers is included.
"An allegorical tale about a mustard seed that grows into a spreading tree rather than a mere bush." —Spirituality & Practice"The bright, textured, and expressive illustrations depict a diverse and multigenerational neighborhood community and beautifully complement the story." —School Library Journal
"The authors retell and greatly expand Jesus' short parable of the mustard seed, with engaging full-page color illustrations of a diverse community set in a modern city. There's not too much text on each page, and the story builds up to its theological conclusion both beautifully and simply." —Christian Century