by Sophfronia Scott – Broadleaf Books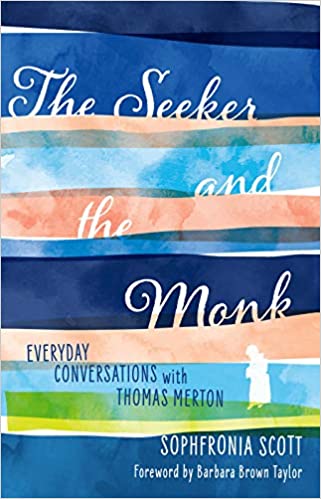 Learn more and purchase from:
What if we truly belong to each other? What if we are all walking around shining like the sun?
Mystic, monk, and activist Thomas Merton asked those questions in the twentieth century. Writer Sophfronia Scott is asking them today.
In The Seeker and the Monk, Scott mines the extensive private journals of one of the most influential contemplative thinkers of the past for guidance on how to live in these fraught times.
As a Black woman who is not Catholic, Scott both learns from and pushes back against Merton, holding spirited, and intimate conversations on race, ambition, faith, activism, nature, prayer, friendship, and love. She asks: What is the connection between contemplation and action? Is there ever such a thing as a wrong answer to a spiritual question? How do we care about the brutality in the world while not becoming overwhelmed by it?
By engaging in this lively discourse, readers will gain a steady sense of how to dwell more deeply within–and even to love–this despairing and radiant world.
""This book is a marvelous journey that teaches us how to walk into the life of another while opening up new paths into our own life. The unlikely companionship of this African American woman writer and a white Catholic monk is one that few readers of this book will ever forget."" –Dr. Willie James Jennings, associate professor of theology and Africana Studies at Yale Divinity School; author of After Whiteness: An Education in Belonging
""If you know Thomas Merton, you now must know Sophfronia Scott. In remarkable and marvelous ways, she invites us to complete our seeing of Merton–and also to see ourselves–by completing his humble seeing of a forgiving God."" –Patricia Raybon, author of My First White Friend and I Told the Mountain to Move
""The beauty of this book is that Sophfronia Scott and Thomas Merton's intimate conversations open outward to include anyone listening in, confident that what is deeply true about any of us is deeply true about all of us. Both Scott and Merton believe we belong to each other, and that faith frees us to speak frankly about our struggles with faith."" –Barbara Brown Taylor, from the foreword.
""An exquisitely rendered account of the 'love affair' between an incandescent, twentieth-century flawed monk and a probing, twenty-first-century Black writer that brims with relevance and astonishing revelations. This book is a testament that if you seek, you indeed shall find."" –Father Edward L. Beck, C.P., author and CNN commentator
""Sitting down with The Seeker and the Monk made me feel like I was overhearing a delightful conversation between two brilliant friends."" –Carol Howard Merritt, pastor of Bedford Presbyterian Church and author of Healing Spiritual Wounds
""A compelling, imaginative book to assist the world as we grapple with issues of race, racism, belonging, faith, hope, and love."" –Rev. Nancy Lynne Westfield, director, Wabash Center for Teaching and Learning in Theology and Religion