by Jana Riess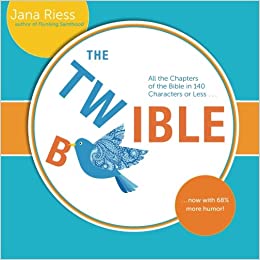 Purchase from:
It's the Bible, now with 68% more humor and 99% fewer begats!
You've wanted to read the Bible, but it's uber-long and, let's face it, sometimes boring. You're a busy person with stuff to do. You want the Bible, only funnier.
Enter The Twible, which brings you every chapter as tweeted in 140 characters or less, from Genesis to Revelation!
Find out what the Bible says you're supposed to do if a friend starts worshiping another god, your child disrespects you in public, or you break the Sabbath. (The answers to those dilemmas are to stone your friend, stone your child, and stone yourself. In that order.) Learn where Paul swears in the New Testament, and why Jeremiah could benefit from antidepressants.
Inside The Twible you'll find:
A tweet for each of the 1,189 chapters of the Bible
A summary of every book of the Bible in seven words or less
Dozens of informative sidebars (print edition only)
More than 50 original cartoons
A glossary telling you who's who in the Bible
Unicorns
From start to finish, The Twible brings the Bible to wonderful, wicked, weird life.
The Twible adapts the Old Testament to the light-hearted quipping familiar in everyday Tweets.– The Guardian,
The Twible is the most entertaining version of my dad's book I've read in the last two millennia! — Jesus Christ
The Twible is the best example I have ever seen of the reverence of irreverence. Only those who love deeply and securely can bring this kind of humor to the telling of the family's stories. Don't read it, unless you are prepared to fall in love with them again. — Phyllis Tickle, author of The Divine Hours and The Great Emergence
I wouldn't object if Twibles were in every hotel room. If they're using this book, I look forward to the next time Christians attempt to proselytwize — Hemant Mehta, The Friendly Atheist blogger; author of The Young Atheist's Survival Guide
Forget about reading the Bible in a year. Now you can read it in an hour, thanks to the subversive, somewhat disturbed, mind of Jana Riess. — Peter Enns, author of Genesis for Normal People