by Rick Rouse, Paul Ingram – Chalice Press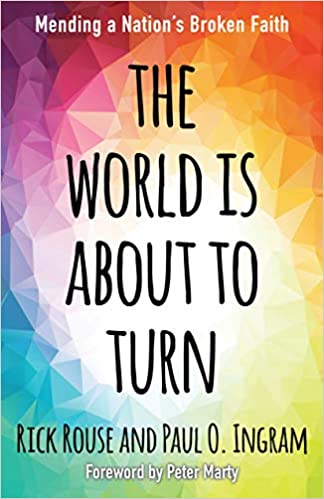 Learn more and purchase from:
In these increasingly divisive times, how does God intend for us to live well together in the common life? Drawing from scripture as well as writings from a variety of other faith traditions and contemporary theologians, The World is About to Turn offers a practical guide for dialogue and mutual understanding for leaders of faith organizations, schools, and member of faith communities; everyone who hopes to make a positive difference in our corporate life together. Chapters include: The Failure of the American Religious Experiment; When Justice Rolls Down: Finding the Moral Courage to Do What is Right; Love One Another: Practicing Mercy and Compassion; Walking Humbly with God: Repentance and Reconciliation as a Path to a More Civil Society; Values Matter: Discovering Common Values in Many Faith Traditions; Embracing Differences: The Gift of Religious Pluralism; and Building Bridges of Hope: Ten Ways Forward with Multicultural and Inter Religious Dialogue. Discussion questions at the end of each chapter, as well as an appendix with liturgical worship resources, make this hopeful book perfect for small group study, class usage, and congregational leadership.
"Dr. King once warned that we will either live together as brothers and sisters, or perish together as fools; the choice is ours, chaos or community. In this new work, which authors Rick Rouse and Paul Ingram describe as a guidebook, they reveal a glimpse into the chaos that has been part of our nation s life, while offering an intentional way to make a difference and create a true community that is God s dream for us." –The Most Rev. Michael B. Curry, Presiding Bishop of the Episcopal Church
"We could wish that the uncommon wisdom found in The World Is About to Turn were already the common sense shared by millions in our nation and world. But that's the point of this powerful, insightful, and big-hearted book: if more of us are willing to reorient our minds and hearts, the world can indeed turn — toward justice, kindness, and deep spiritual humility. Chapter Seven alone is worth twice the price of this book. Enthusiastically recommended!" –Brian D. McLaren, author/speaker/activist
"In this time of increased antisemitism and hate of all kinds, it is important for faith leaders to consider how our teachings contribute to the perpetuation of supremacy. Rick Rouse and Paul O. Ingram offer a rich tool in this work. The World is About to Turn does not end at exploring history, it offers an authentic and relevant theology of inclusivity to support faith leaders in strengthening our communities and country with love and understanding." –Rabbi Rachel Kort, Temple Beth Or, Everett, WA